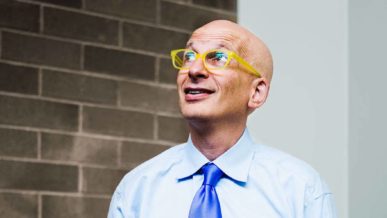 Seth Godin is a bald American entrepreneur and Author of 19 best selling books about business and marketing. He has also curated books for children titled 'Worlds of Power', a 10 book series about video games.
Business ventures include his own book packaging company that he started in 1986 which he later sold to his own employees.
The sale of the book package business allowed him to launch a new venture 'Yoyodyne'. Essentially an internet gaming company that marketed it's users to other businesses. In 1998, Yoyodyne was sold to Yahoo for just under US $30 million. The deal also saw Seth become vice president of direct marketing at Yahoo.
In 2006 he launched Squidoo, a user contributed article sharing website where authors' uploaded their own content in the form of a 'Squidoo lens'. The website gained popularity fast mainly due it's advertising revenue share with authors. Apart from sharing revenue, authors' where also able to market their own business, website and affiliate links to viewers.
Just two years after launching Squidoo in 2008, the website was one of the internet's top 500 most viewed.
Somewhere around 2012 the website started it's decline in viewership which probably had something to do with Google's algorithm changes. Other article websites like Ezinearticles.com where also affected by Google changes among others.
In 2014 Squidoo was acquired by 'Hubpages' for an undisclosed amount.
The bald entrepreneur that wears yellow frame Theo glasses is also a popular 'Ted' speaker as seen on Youtube where he has amassed millions of views.
Genre
Bald Entrepreneur
Born
July 10, 1960 in Mount Vernon, New York, United States.
Alive or Dead
Alive and well
Best Know For
Best selling author. Internet millionaire. Inspirational speaking.
Height, Weight & Eye Colour
5′6″ / 167 cm's – 145 lbs / 66 kg's – Eyes – Brown
Nationality
American
Net Worth
37 Million USD
Married or Single
Married Helene Aronson in 1986. They have two sons together.
Gay or Straight
Straight
Official Website
Blog – seths.blog
Interesting Facts and Trivia
He cannot easily sit still and seems to be in constant motion even when seated.
Was a keen cb / ham radio enthusiast as a kid until he met the people he had been talking over a year to. He thought they were all a 'bunch of losers' and from then on never turned the cb radio back on again.
Started a business at 14 selling biorhythms that where printed at the local bowling alley and later in a university computer room.
Studied Computer science, philosophy, and mechanical engineering at Tufts private research university.
Spent time researching why the alphabet  is in the order it is in.
His company Yoyodyne was the first to giveaway 1 million dollars on the internet.
One of his all-time favourite people is another famous bald man featured at our website, Jeff Bezos.
Seth is not a keen traveler and has turned down gigs because of it.
Watch the Bald Seth Godin in 'Top Ten Rules for Success'