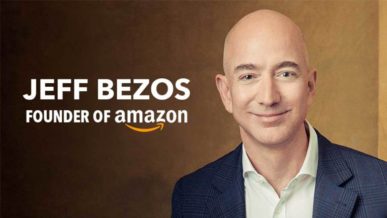 Billionaire Jeff Bezos is as 'bald as a badger'.
Jeffrey Preston Bezos is the founder of Amazon which began as an online bookstore in 1994. If you have been living on another planet for the last few years, Amazon is an e-commerce empire and the 'go to' place for online purchases.
Apart from offering products, Amazon also offers services mainly in the form of subscriptions to TV, video and web services.
He is also the founder and owner of private space exploration company Blue Origin.
There is a user post on popular website 'hairlossTalk' that caught my attention about Bezos possibly funding a cure for baldness? once and for all. It's basically a 'why doesn't he' type of discussion mainly for desperate people looking for a breakthrough.
Instead of aspiring to be a space explorer and wanting to leave a legacy of space exploration how about funding a cure for baldness? With the billions he has got is he already secretly doing just that?  Check out the post here and let them know you came from 'Famousbaldpeople' – WARNING it does contain colourful language.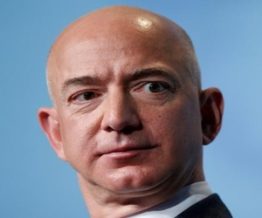 Genre
Bald Business / Entrepreneur.
Born
January 12, 1964 in Albuquerque, New Mexico, United States.
Alive or Dead
Alive and well.
Best known For
Founder of Amazon and being the richest person in the World as of 2019.
Height-Weight
5′ 8″ / 173 cm's – 165lbs / 75 kg's
Nationality
American
Net Worth
135 Billion USD
Married or Single
Divorced from his wife of 25 years 'MacKenzie Tuttle' (soon to become the richest woman in the World). The couple announced their divorce on January 9, 2019 after a long bout of trial separation. They have 4 children together.
Gay or Straight
Straight
Interesting Facts and Trivia
His mother was just 17 years old when he was born.
Once built his own alarm system to keep his sister Christina and his brother Mark out of his bedroom when they where kids growing up in the family home.
Flipped burgers at McDonald's where he worked as a line cook when he was 16 years old as reported in Business Insider. It was also reported that this is where he became fascinated with automated technologies. No doubt he applied much of this in his latter ventures.
Graduated Princeton University in 1986 aged 22 with Bachelor of Science degrees in electrical engineering and computer science.
He was one of the first to invest in Google with an initial $250,000 equaling 3.3 million shares in 1998. Fast track to 2019 and the shares are now worth around 3 Billion give or take a few million 🙂
Once described as a 'brilliant but mysterious and coldblooded corporate titan" by New York Times journalist 'Nellie Bowles'.
The Bald and the Beautiful with Jeff Bezos and John Travolta