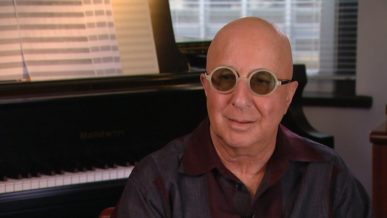 Paul Shaffer is a short, Canadian musician and music producer that wears spectacular spectacles.
He was the band leader and David Letterman's sidekick from 1982-1993 with 'Late Night with David Letterman' and 1993-2015 with the show's new time slot 'The Late Show with David Letterman'.
Paul was developing a receding hairline back in his SNL 'Saturday Night Live' days from 1975-1980, making him around 26 years old when he started to go noticeably bald.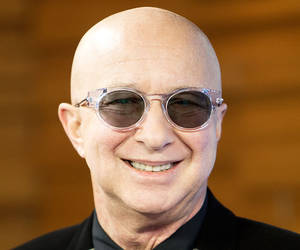 Genre
Bald Musician
Born
 November 29, 1949, Thunder Bay, Ontario, Canada
Alive or Dead
Alive and Well
Best Known for
The bald Band leader and producer / director from 'The Late Show with David Letterman'.
Height & Weight
5′ 5″ / 165 cm's – 132 lbs / 60 kg's
Nationality
 Canadian-American
Net Worth
 $30 Million USD
Married or Single
Married Cathy Vasapoli in 1990. They remain happily married with two children, Victoria born in 1993 and Will in 1999.
Gay or Straight
Straight
Interesting Facts and Trivia
He co-wrote the 1982 billboard number one US hit 'It's Raining Men' with Paul Jabara but he is not gay.
Like another bald musician 'Elton John', Paul likes to wear outrageous designer glasses.
He was a band member on SNL 'Saturday Night Live' from 1975 to 1980.
Musical director for some big name celebrities including Bill Murray, John Belushi, Dan Aykroyd. Paul is also musical producer and director for the induction ceremony of 'The Rock and Roll Hall of Fame' since 186 until present.
The Bald Paul Shaffer Talks About The Late Show Guests
Some old footage of Paul Shaffer during the show as well as some off camera moments with Dave where you can see Paul's hair styles as well as his thinnin ghair.