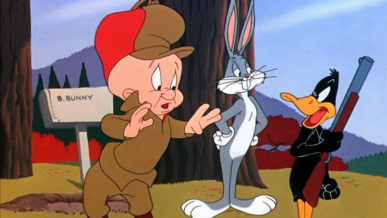 Elmer Fudd is a bald cartoon character and is one of the most loved and famous Looney Tunes characters. The bald character first appearance was in 1940 and is still active to this day.
The original voice of Elmur was Arthur Q Bryan. Many other actors have embraced the voice role including Mel Blanc with roles from 1943 to 1980 and current day voice actor Billy West also known for 'Futurama' and 'Ren and Stimpy'.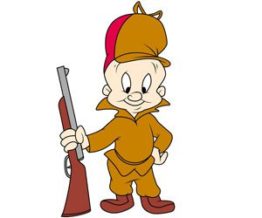 Genre
Bald Cartoon Character / Wabbit Rabbit Hunter
Born
1940 United States
Alive or Dead
Alive and well
Best Known for
Hunting rabbits in a Bugs Bunny Cartoon
Height & Weight
3′ 5″ / 104cm's – 100 pounds / 45 kg's
Nationality
American
Net Worth
35 Million USD (based on Billy West Current voice actor worth)
Married or Single
Mistakenly Married bugs bunny twice – Once in 'Rabbit of Seville' and another time in 'Bugs Bonnet'. It is rumored Elmer also has a legit wife called Mr's Elmer Fudd first seen in the episode 'Don't Axe Me' 1958.
Gay or Straight
Straight
Interesting Facts & Trivia
Elmer Fudd's originated from a character called 'Egg Head' in 1937. The Egg Head character made several appearances in Warner Bros cartoons up until 1940 when the character seemingly changed into Elmer Fudd.
Egg Head made a surprise return many years later in 2003 where the he was seen at the end of the animated film 'Looney Tunes: Back in Action'.
It is assumed that the Elmer Fudd character may have been based off of a popular hunter of the 1930's 'Elmer Keith'.
'Porky Pig' not to be confused with 'Piggy' was another Looney Tunes bald cartoon character that debuted March 2, 1935 (two years before Elmur) co-starred with Elmur Fudd in the 1942 cartoon 'Any Bond's Today'.
The 1931 Merrie Melodies character 'Piggy' was ended in 1936. Porky Pig took on some of Piggy's mannerisms but still remained a totally different character.

Elmer Fudd featured with Bugs Bunny in the early 1940's and continued right through to the 80's in Warner Bros cartoons and television specials, more recently as a cameo in "Who Framed Roger Rabbit" (1988).
Elmer Fudd's character was presented as the funny voiced small bald guy that hunts and shoots rabbits (Bugs Bunny).
The character has had a few changes in appearance over the years with most popular being bald egg shaped head and fat Elmer with a big round nose and belly.
Find more popular quotes from movies and cartoon shows at imdb – Elmur Fudd.
The Bald Cartoon Character Elmer Fudd Hunting Rabbits