Verne Troyer – Bald Actor Bio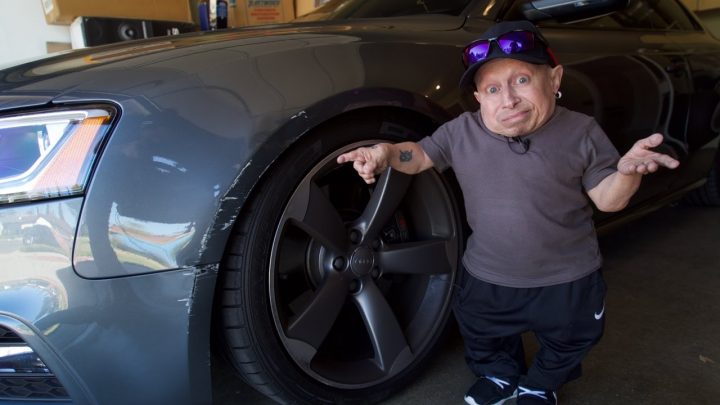 Verne Troyer is an American bald actor that Suffers from Dwarfism, best known for role as 'Mini Me' in the Austin Powers movies starring 'Mike Myers'. He is literally one of the shortest men in the whole World.
Vern fancies himself as a bit of a playboy and has appeared in commercials as 'The Boss' for online casino website BGO.com.
Verne is 81 cm's tall (2 foot 8 inches).
Genre
Bald actor, comedian, stunt man
Born
January 1, 1969, Sturgis, Michigan, United States
Alive or Dead
Alive. In April 2017 Verne admitted himself for treatment to a rehab clinic for alcohol abuse.
Verne Troyer Best Known for
'mini-Me' – Dr Evil's side kick in the Austin Powers: The Spy Who Shagged Me in 1999. He returned for the role in the 2002 movie 'Austin Powers: Goldmember'.
Height – Weight
2′ 8″ / 81 cm's – 35 lbs / 16 kg's
Nationality
American
Net Worth
$10 Million USD
Official Website
No official website found but we thought you might like to visit Verne Troyers Facebook Page
Married or Single
Married strawberry blonde Playboy model 'Genevieve Gallen' on February 22, 2004. They divorced 2 years later.
Interesting Facts and Trivia
It is reported that Verne has to do all of his own stunts because their is no one that is small enough to stunt double for him.
Spent his early childhood in an Amish community where he fed cows, pigs and other farm animals.
Appeared on celebrity big brother in 2009 as himself.
Apart from the Austin Powers movies he has also appeared in over 25 feature films including Men in Black, Jingle all the Way, Harry Potter and the Sorcerer's Stone and Gnome alone. See full list at IMDb