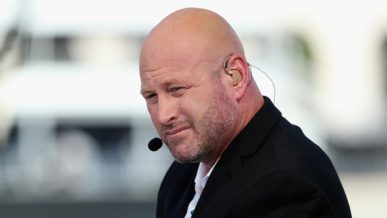 Trent Farris Dilfer is a bald retired American athlete. Former NFL quarterback. Retired from the National Football League on July 9, 2008 after playing 13 seasons – Tampa Bay Buccaneers from 1996-99, Baltimore Ravens in 2000, Seattle Seahawks from 2001-2004, Cleveland Browns in 2005 and San Francisco 49ers 2006 till his retirement in 2008.
In 2012 he was voted as one of the top 25 'The Best Bald Guys in Sport' by sports fan website 'The Bleacher Report'.
He can often be seen with shiny bald head and short 'salt and pepper' beard or goatee.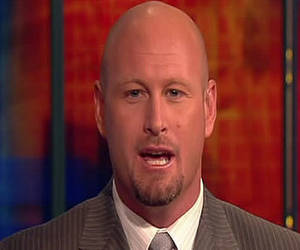 Genre
Bald Sportsman – NFL Quarterback
Born
March 13, 1972, Santa Cruz, California, United States
Alive or Dead
Alive and well.
Trent Dilfer Bald Former NFL Player
The starting quarterback in the winning team the Baltimore Ravens in Superbowl XXXV, the decider between the Baltimore Ravens and the New York Giants was won 34-7 in favor of the Baltimore Giants.
Trent Dilfer was dropped from the team after the season finale and goes down in history as the only quarterback never to be resigned by a team after winning the Superbowl.
Height – Weight
6′ 4″ / 193 cm's – 247 lbs / 112 kg's
Nationality
American
Net Worth
$8 Million USD
Official Website
We could not find an official website but we thought you may like to view the NFL stats page for Trent Dilfer
Married or Single
Married to Cassandra Franzman a former Fresno State University swimmer in 1993. They have 3 daughters and one son 'Trevin' that sadly died of heart disease in 2003 at age 5. Daughters Madeline born 1996, Victoria 1999 and Delaney Dilfer born July 11, 2002 are doing fine.
Interesting Facts and Trivia
Was dropped by sports network 'ESPN' in April 2017 after the sports channel made a significant change to it's commentary, analyst and on air / off air line up axing 100 people on the payroll.