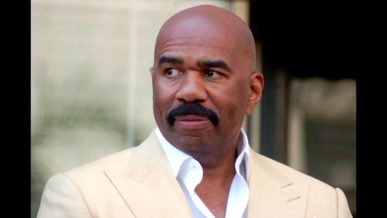 Broderick Stephen Harvey is a famous African American Television actor, comedian and author and currently host of his own radio show 'The Steve Harvey Morning Show'.
Well known and recognized by his black bald head, thick moustache and pearly white teeth.
Most of our older viewers will remember him most as host of his own self titled Television show 'The Steve Harvey Show' which aired on The WB Television Network from 1996 until 2002.
Hairloss Rumours
From high top fade hairstyle in the 80's and 90's to a thinning crown and bald patches in the naughties. In the mid 1990's Steve began trying to cover up his balding by experimenting with products such as 'Toppik', a sprinkle on hair fiber for thinning hair.
Shortly after turning 50 in 2007, Steve began hinting at a change a 'new look'. In January of 2008 it finally happened, Steve Harvey shaved his head totally bald.
Awesome! We think it's the best thing he ever did. Do you agree?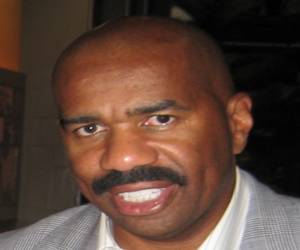 Genre
Bald comedian and Television host
Born
January 17, 1957, Welch, West Virginia, United States
Alive or Dead
Alive and well.
Steve Harvey – Bald African American Host Best Known for
Host of The Steve Harvey Show and Family Feud.
Height – Weight
6′ 1″ / 188 cm's – 229 lbs / 104 kg's
Nationality
African American
Net Worth
$100 Million USD
Official Website
Married or Single
Married three times – Marcia Harvey from 1980–94, Mary Shackelford 1996–2005 and currently married to Marjorie Bridges since 2007.
Interesting Facts and Trivia
Like one of our most famous bald people Bruce Willis, Steve Harvey had a stutter growing up. He was nicknamed 'Va-va-voom' by his classmates after repeatedly stuttering words starting with 'V'.
A keen boxer in his late teens.
Before he was famous he lived out of his car in the 80's while performing at comedy gigs around the United States.
Steve as the host of the 2015 Miss Universe competition in Las Vegas Nevada, mistakenly read out the wrong winner.
Instead of announcing Miss Philippines 'Pia Wurtzbach' as the winner he read out the wrong name and announced Miss Columbia as the winner.
He later apologized to both beauties via Twitter and again in 2016 when he once again hosted the Miss Universe Pageant this time in The Philippines.