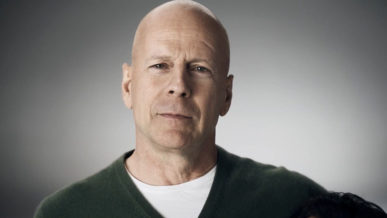 Famous bald actor Bruce Willis born on 19th march, 1955 at an army base in Idar- Oberstein, West Germany where his American soldier father David Willison was stationed.
Bruce's mother Marlene Willison worked in a bank. Bruce the eldest of four siblings – sister Florence, brother David and oldest brother Robert. Sad to hear Robert died of pancreatic cancer in 2001 at the age of 42.
Most famous for the 80's TV series Moonlighting and the Die Hard Hollywood movies franchise.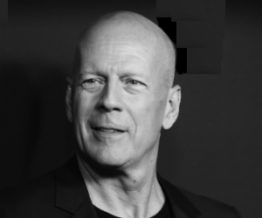 Genre
Bald Actor
Born
March 19, 1955 West Germany
Alive or Dead
Alive and well
Best Known for
Action Movies
Height & Weight
6′ 0″ / 183 cm's – 176 pounds / 80 kg's
Nationality
American – arrived in America age 2
Net Worth
$180 Million USD
Married or Single
Married Emma Hemming in 2009
Gay or Straight
Straight
Interesting Facts
Had a problem with stuttering up until the age of around 9 years old. At school Bruce got a part in a play called 'Connecticut Yankee in King Arthur's Court'. When he stepped out on stage he realised one thing, his stuttering disappeared, the rest is history.
Other interesting facts about Bruce Willis is that he always wears watches the wrong way around ie; the face of the watch facing down on his wrist.
On February 26, 2003 Bruce was scheduled to appear as a guest on the 'Late Show with David Letterman' but after suffering an eye injury Dave had to be rushed to hospital. Bruce came to the rescue and hosted the show in Dave's absence. Guests on the show that night included Carmen Electra, Dan Rather and John Mayer. It was Letterman's first sick day off in 20 years but all went smoothly thanks to Bruce.
Born 19 March 1955, West Germany
Real name Walter Bruce Willison
Father is David, Mother is Marlene
Eldest of four siblings
Grew up in Penns Grove, New Jersey
Parents separated in 1972
Attended Penns Grove High School
Nickname at school was Buck Buck because of a stutter
Began performing in drama class in high school
Best known for the "Die Hard" movie franchise
Married Demi Moore in 1987
Divorced Demi Moore in 2000
Has 5 daughters – Rumer Willis (born 1988), Scout LaRue Willis (born 1991), Tallullah Belle Willis (born 1994), Mabel Ray Willis (born 2012), Evelyn Penn Willis (born 2014)
Married Model Emma Hemming (born 1978) in 2009
First job was as a security guard at Salem Nuclear Power Plant
First role was as an extra (man entering a diner) in the 1980 movie starring Frank Sinatra and Faye Dunaway ' The First Deadly Sin '
Check out The top 10 Ways the Bald Bruce Willis Can Kill You