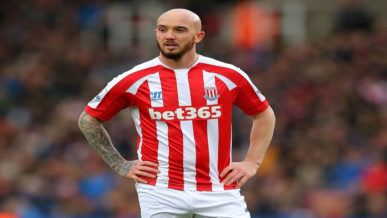 Stephen James Ireland is an Irish born balding Soccer star that plays midfield for 'Stoke City' in the English Premier League.
Rumour has it that in 2007, Stephen turned up to training wearing a wig in place of his receding hair. His team mates apparently took a double take at his new head of hair and tried to pull it off. He was thinning on top the last time they saw him.
Stephen wore the wig on field throughout the 07′ Premier League season with Manchester City and also six appearances with the Republic of Ireland national team also in 2007.
You will be pleased to know that Stephen has come to his senses and from the 2008 season and beyond now chooses to keep what hair he has left cut short or shaven completely bald.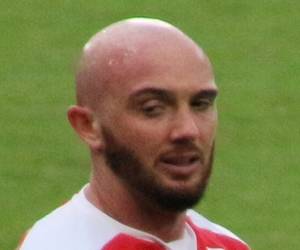 Genre
Bald Athlete / Sportsman
Born
August 22, 1986, Cork, Cork County, Ireland
Alive or Dead
Alive and well.
Stephen Ireland – Football Star Best Known for
On field position as a midfielder for Manchester City 2005-2010, Aston Villa 2010-2014, Newcastle United 2011, Stoke City 2014 till present.
Broiled in controversy after lying to his team manager, team mates and the media in 2007 when he wanted time off to visit his girlfriend after she had a miscarriage. He lied saying that his grandmother had died but this was later found out to be incorrect. An updated news article in The Telegraph explains more.
Height – Weight
5′ 8″ / 173 cm's – 148 lbs / 67 kg's
Nationality
Irish
Net Worth
$5 Million USD
Married or Single
Married long time girlfriend Jessica Lawlor in 2016. They have three children together, Joshua, Jessica and Jacob.
Interesting Facts and Trivia
Stephen Ireland – Football Star loves to be show of his car collection. From black Range Rovers with pink wheels to colour coded Audi R8's and Bentley's.
He suffered from Osgood–Schlatter disease that is visible by a lump protruding from the lower knee. He was rejected from playing with several clubs as a teenager because of the ailment.