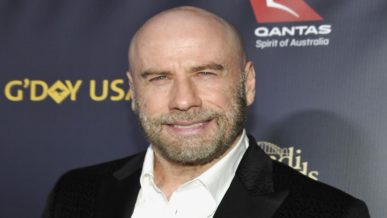 We have been waiting and waiting and waiting and in 2019 it has finally happened. John Travolta, most famous for all time classic movies 'Grease' and 'Saturday Night Fever' to name a few has finally thrown away that terrible hairpiece and gone totally bald.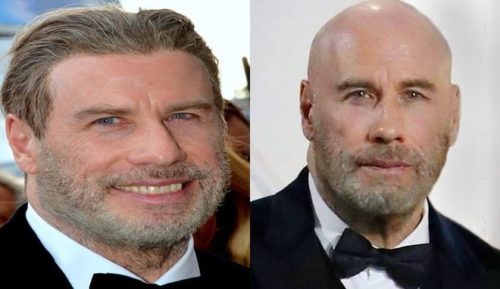 As far as we know this is a permanent decision – more on that later in the post.
John Joseph Travolta is an American actor, producer and occasional singer and dancer (see Grease).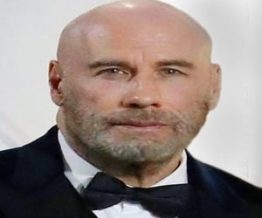 Genre
Bald actor
Born
Englewood, New Jersey, United States. February 18, 1954
Alive or Dead
Alive and well
Best Known For
Welcome Back, Kotter (1975-79), Saturday Night Fever (1977), Grease (1978), Look Who's Talking (1989), Pulp Fiction (1994), Get Shorty (1995), Broken Arrow (1996), Face Off (1997),  Swordfish (2001). See full filmography Here
Height, Weight & Eye Color
6'2″ / 188cm's – 214 lbs / 97kg's – Eyes – Blue
Nationality
American with Italian (father's side) and Irish (mother's side) heritage.
Net Worth
$175 Million USD
Married Or Single
Married to Kelly Preston since 1994. They have had 3 children together. Son Jett died of a seizure in 2009 age 16. Daughter Ella Bleu born 2000. Son Benjamin was born in 2010.
Gay or Straight
Straight
Interesting Facts and Trivia
John Travolta along with Olivia Newton-John still receive hundreds of thousands of dollars every year from the Royalties off anything related to 'Grease'  – CD's, DVD's, merchandise including online sales, the soundtrack etc. About Grease, he once was quoted as saying he 'doesn't need to work again'.
In the January 2005 issue of TV Guide he was awarded 3rd place in the Top 25 teen idols of all time.
Converted to Scientology during filming of 'Devils Rain' in 1975 alongside actress Joan Prather.
Was the face and star of Sky TV commercials in 2004-2005. He also starred as Get Shorty character Chili Palmer in a TV commercial for Cadillac in 2005.
Once appeared in Michael Jackson's music video for 'Liberian Girl' from the 'Bad' album 1987.
Replaced Michael Madsen for role as 'Vincent Vega' in cult classic 'Pulp Fiction' after Madsen was unavailable after taking a role in movie Wyatt Earp with Kevin Costner.
Rejected or denied roles in 3 blockbuster movie's that where later snapped up by Tom Hanks – Allen Bauer in Splash (1984), Forrest Gump in Forest Gump (1994) and Jim Lovell in Apollo 13 (1995).
Other movie roles that he turned down only to become huge hits include – American Gigolo (1980), Tootsie (1982), Jackie Brown (1997), Good Will Hunting (1997), As Good As It Gets (1997).
Is an accomplished pilot and Ambassador for Australian airline 'Qantas'.
Once owned a Boeing 707 aircraft decorated in it's original Qantas Airlines livery from the 1960's. The front left of the plane bears the text 'Jett Clipper Ella' after his children Jett and Ella at the time and 'Clipper' being a Pan-Am tribute. In 2007, he donated the airplane to the 'Historical Aircraft Restoration Society' based in Albion Park, NSW, 140 km south of Sydney Australia.
Decision to Go Bald
Posing for an Instagram selfie alongside his daughter 'Ella' on January 7, 2019 with remark "i hope everyone had a great New Year!".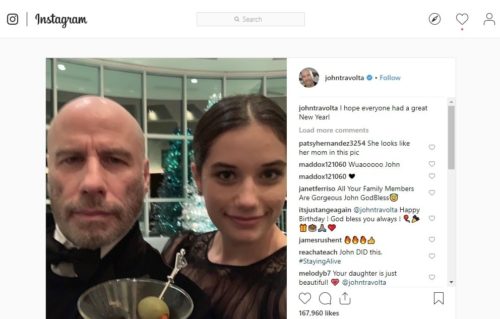 The response from fans was so positive he responded via a video on his Instagram page thanking everyone for their 'wonderful comments online'.
Articles published all over major entertainment news websites on January 8 of 2019 stated that John had finally embraced his baldness and was showing it off to the public.
John Travolta's decision to shave his hair all off (or take it off) a New Year's resolution?"
We at Famousbaldpeople.com do believe that this was in fact a New Years resolution and John if you are reading this one day we would greatly appreciate if you could confirm this.
By the way, YOU absolutely ROCK the bald look and we would love to see you keep it.
Interview with John Travolta about His New Bald Look
Inspired by his good friend Armando Pérez, better known as 'Pitbull'