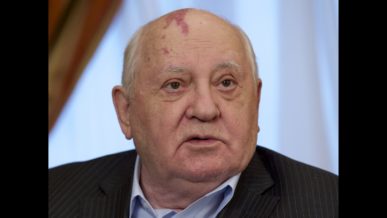 Mikhail Sergeyevich Gorbachev is a Russian born, Soviet Union leader from 1988 until 1991.
He was the first and last President of the U.S.S.R.
His efforts in government office assisted in the fall of communism which contributed to the demise of the Soviet Union and the ending of the cold war. For this he was awarded the 'Nobel Peace prize' on October 15, 1990.
Mikhail Gorbachev is easily identified by a 'Port Wine Stain' birth mark (nevus flammeus) on the front right hand side of his bald head.
Note: Another Famous Bald Person with a Port Wine Stain birthmark is Billy Corgan.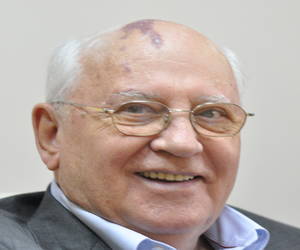 Genre
Bald Politician
Born
 March 2, 1931, Privolnoye, North Caucasus Krai, Russian SFSR, Soviet Union
Alive or Dead
Alive and well
Best Known for
First President of the Soviet Union. Ending the cold war of 1945-1991.
Height & Weight
5'9″ / 175 cm's – 178 lbs / 81 kg's
Nationality
 Russian
Net Worth
 $185 Million USD
Married or Single
Married Raisa Gorbachova in 1953. They remained married up until her death from Leukaemia in 1999. They have one child together 'Irina' born in 1956.
Gay or Straight
Straight
Interesting Facts and Trivia
We might have to rename this as the 'Believe it or not' section but anyway believe it or not, Mikhail Gorbachev won a Grammy Award in 2004 for 'Best Spoken Word Album for Children' with the 'Wolf Tracks and Peter and the Wolf'.
On December 25, 1991 Mikhail Gorbachev rang the United States President to wish him a Merry Christmas and thank him for his efforts in the peaceful break up of the Soviet Union. The president at the time George H.W Bush (Bush Senior) was celebrating Christmas at Camp David with his family.
I won't bore everyone with the transcript here but it is fascinating reading. Take a look at the famous transcript nicknamed 'The Last Phone Call' as reported in the NY Times.
The Bald Mikhail Gorbachev Interview – Cold War, Warm Heart