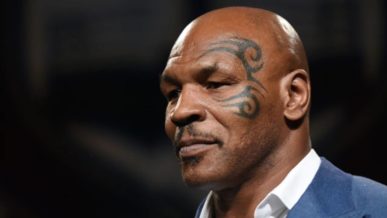 Mike Tyson is a former heavyweight boxing champion and definitely deserves a spot on Famous Bald People.
Born on the 30th of June 1966 in Brownsville, Brooklyn, New York, United States.
In the mid to late 1980's Mike Tyson had a bald spot on the front part of his head just above his hairline.
This was apparently due to stress of boxing and the hounding from the World's media. A bald patch that appears on ones head is in fact quite common and often resolves itself within a few months as it did in Mike's case.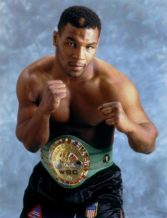 When Tyson First Shaved His Head Bald
As reported on July 9, 1991 in 'The Baltimore Sun'. Mike shaved his head bald to try and convince George Foreman to fight him.
Don King, Tyson's manager and promoter at the time was quoted as saying 'Tyson shaved his head in deference to the fighting preacher'.
And Don King again…
"Mike has shaved his head in tribute to Foreman. This starts the promotional wheels turning. Two bald monks of the same clan, the fighting preacher against the villain, Peck's bad boy.
"Isn't bald beautiful?" King asked.
Unfortunately for boxing fans, the fight between Tyson and Foreman never went ahead.
From 1991 and with a shaved head, Tyson seemed to switch back and forth over the years from short visible hair to fully shaved head. The style he prefers to this day.
Genre
Bald Boxer, Sports Person.
Born
June 30, 1966, Brownsville, Brooklyn, New York, United States.
Alive or Dead
Alive and well
Best Known For
Heavyweight boxing champion. One of the most feared boxers of all time.
Height, Weight & Eye Colour
5′8″ / 178 cm's – 240 lbs / 109 kg's – Eyes – Brown
Nationality
American
Net Worth
$3 Million USD
Married or Single
Married actress Robin Givens in 1988 and divorced in 1989.
Married Monica Turner in 1997, divorced in 2003.
Married socialite Lakiha "Kiki" Spicer in 2009.
He has six children.
Gay or Straight
Straight
Official Website
Interesting Facts and Trivia
Nicknames include Iron Mike Tyson, Kid Dynamite, The Baddest Man on the Planet.
Loves all of his 350 pigeons.
Was a vegan from 2009 until 2013. He also is planning on releasing his own branded vegan products in 2019.
Tyson became a Muslim in 1993 during his prison stint after being sentenced to 6 years for the rape of 18 year old Desiree Washington. He was released in March 1995 after serving less than 3 years in prison.
Filed for bankruptcy in August of 2003 after years of dodgy deals and misadventures.
In 2007 admitted to being addicted to cocaine after being convicted of drug possession and driving under the influence.
The Bald Mike Tyson on Joe Rogan Podcast #1227
Recently discussed the drug DMT with another famous bald person 'Joe Rogan' on his popular podcast featured on Youtube.