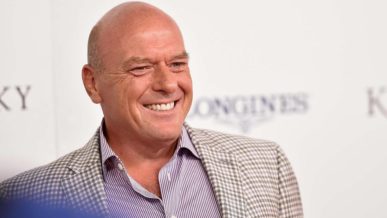 Dean Norris is a bald television and movie actor that was born in Indiana, United States in 1963.
Dean appeared in 51 episodes of the hit AMC drama series Breaking Bad from 2008 to 2013.
Aaron Paul and Bryan Cranston also played bald characters on the show.
Playing the character Henry "Hank" R. Schrader, a special agent with the DEA (Drug Enforcement Administration) leading the investigation into illegal drug 'methamphetamine' manufacturing.
Other notable appearances where as 'Tony the Mutant' in Total Recall (1990), The swat team leader in Terminator 2: Judgement Day (1991).
A full list of all the Dean Norris movies and television roles can be found on IMDb.
Dean is also one of the bald guys on our website that prefers to keep, in real life, some hair on the sides and back of his head.
Ed Harris, Dr Phil, Larry David, Hulk Hogan, Ron Howard, Jesse Ventura and many more appearing on the Famous Bald People website all like to keep what hair they have left rather than shaving completely bald. We have listed so may now that maybe we should think about creating a category of famous baldies that keep hair on the back and sides. What do you think?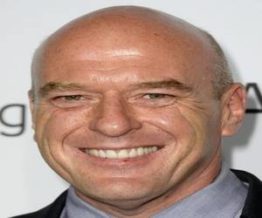 Genre
Bald Actor
Born
April 8, 1963, South Bend, Indiana, United States.
Alive or Dead
Alive and well
Best Known For
Bald DEA agent in TV drama 'Breaking Bad'.
Height, Weight & Eye Colour
5′7″ / 173 cm's – 165 lbs / 75 kg's – Eyes – Hazel
Nationality
American
Net Worth
$5 Million USD
Married or Single
Married Bridget Norris in April 2001. They have five (5) children together.
Gay or Straight
Straight
Official Website
None that we know of. Can you help? Leave a comment below.
Interesting Facts and Trivia
He likes animals in particular, horses. He regularly attends horse racing events and one of the biggest the 'Kentucky Derby'.
Is a Harvard Graduate (1985) majoring in Social Studies.
Dean has a 'green thumb' and is a keen gardener.
Once went on a Twitter rant about Delta Airlines in 2013 after his plane was delayed when an airline stewardess called in sick. Later tweeting quote "Just kidding. LOVE DELTA. Please don't spit in my drinks".
Likes Smokes big fat cigars.
Dean Norris Appears Balding – 'The Firm' 1993 at Age 30
Watch the chase scene from the 1993 motion picture ;The Firm' starring Tom Cruise. Dean Norris is one of the Squat man guys chasing. You can see that Dean Norris is already balding  ate the age of 30.
He appears around the 1:15 mark.