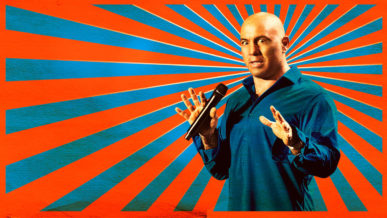 Joe Rogan (Joseph James Rogan) is a bald American comedian, sports commentator and host of top rating Podcast 'The Joe Rogan Experience' or JRE for short.
Joe Rogan quote
"Finally i had to let it go…I should have let it go a long time ago. i love having a shaved head. So free"
Joe Rogan was born in Newark, New Jersey, United States on August 11, 1967 with Irish and Italian descent (like Vin Diesel).
His father Joseph a police officer and his mother whom he wants to remain unnamed where divorced in 1972 when Joe was just 5 years old.
Joe has not seen his father since moving from Newark to San Francisco when he was 7 years old.
Joe Rogan attended Newton South high school in Massachusetts where he graduated in 1985.
At the age of 13 years old Joe took an interest in martial arts.
When he was 14 he enrolled in Karate class and not long after he began competing in Taekwondo.
At 15 he earned a blackbelt in Taekwondo and not long after became Massachusetts full contact Taekwondo champion which he held for the next four years consecutively.
In 1987 aged 19 Rogan won the lightweight U.S open championship tournament which led him to take on both the middleweight and heavyweight division contenders.
He beat both to become 'Grand Champion' of the sport. An unbelievable feat don't you think?
At 21 he started his stand up comedy career with regular appearances at 'The Comedy Store' in California.
In 1994 he appeared on television on the MTV Comedy show. MTV executives enjoyed him so much that they offered Joe a 3 year exclusive contract. Other networks where also offering Joe a contact which started a bidding war. He later accepted a deal with Disney.
Appearances included fox sitcom 'Hardball' and NBC sitcom 'NewsRadio' .
His Television and Acting Career had begun
In 2001 Joe accepted an offer by NBC (after initially turning it down) to host 'Fear Factor' an American based stunt and 'dare to'  style game show. The show originated from the Netherlands and was called 'Now or Neverland'. Contestants who where related to each in some way competed against other contestants for a prize of $50,000 USD.
Joe hosted Fear Factor from 2001-2006 and again in 2011-2012 when the show was revived.
In 2002 Joe joined the UFC  – 'Ultimate Fighting Championship' as a color commentator – an expert sports commentator that assists the main commentator.
Joe Rogan Talks about Hair Loss
Joe Rogan  has talked about hair loss on his popular podcast 'The Joe Rogan Experience' that aires weekly on Youtube.
In particular we want to take you back to episode #620 that aired March 4, 2015.
Joe reveals that he has tried all sorts of hair loss remedies as well as undergoing a hair transplant in his late twenties. He has a scar on the back of his head where they took hair out of and placed it on top of his head. It didn't work. He states that his hair was just 'too thin' to begin with.
Joe was once quoted as saying QUOTE – "I had a hair transplant. That was the dumbest thing i have ever done. I have a giant scar on the back of my head, it looks like a smile".
He has also used Propecia, Rogaine, Minoxidil, Retin A and other formulas and combinations to treat his balding head.
In other podcast he also says that he uses an electric shaver every four days to shave his head. He even states that if he did have hair he would still shave it all off due to the fact that it is so much easier to maintain.
Watch Joe Rogan Talk About His Own Hair Loss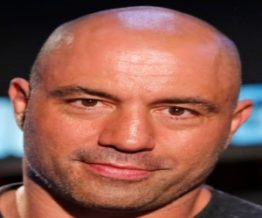 Genre
Bald Comedian, Commentator, Host
Born
August 11, 1967, Newark, New Jersey, United States.
Alive or Dead
Alive and well
Best Known For
Host of TV show Fear Factor. Stand up comedy, UFC expert commentator and Podcast host.
Height, Weight & Eye Colour
5′8″ / 173 cm's – 190 lbs / 86 kg's – Eyes – Brown
Nationality
American
Net Worth
23 Million USD
Married or Single
Married Jessica Ditzel in 2009. They have two daughters together. Jessica also has one other from a previous relationship.
Gay or Straight
Straight
Official Website
Podcast Website – Podcasts.Joerogan.net
Interesting Facts and Trivia
Once called Carlos Mencia out as a joke thief.
Hosted the last two seasons of 'The Man Show' alongside co-host Doug Stanhope.
Nearly kicked a contestants ass, former Survivor contestant Jonny Fairplay on an episode of Fear Factor.
Was set to fight Wesley Snipes after Snipes wanted to make quick cash after getting in trouble with the IRS over a tax debt. Needless to say the UFC style fight never went ahead and Wesley spent 3 years behind bars over the tax fraud.
Smoked marijuana with Elon Musk on podcast episode #1169 of 'The Joe Rogan Experience' aired on Youtube on September 6, 2018. The episode currently has over 22 million views.
Has used and shared his experience with the psychedelic drug DMT.
Often argues with Fellow martial arts expert 'Eddie Bravo' about 'Flat Earth' and how the earth is NOT flat like Bravo thinks it is.
Has his own clothing label called 'Higher Primate' that features funny, mainly adult type slogans.
Summary
Be like Joe Rogan and if you are losing your hair no matter what age you are just let it go and be FREE. You will never look back. Just shave it off. You can do it.