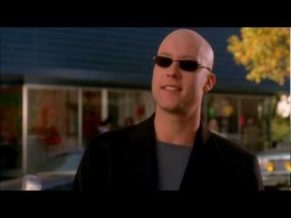 Michael Rosenbaum – occasional bald Hollywood Actor that is best known for playing 'Lex Luthor' on the hit TV series 'Smallville'.
He's not actually bald nor does he suffer from a receding hairline (yet) or male pattern baldness he just likes to shaves his head smooth so we think he is still worth a mention.
The ladies like him too. Sometimes known as the 'hot bald guy' from the TV Superman show.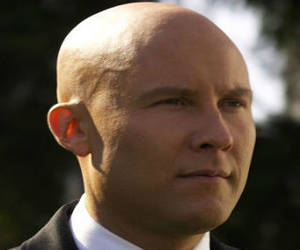 Genre
Actor that likes to shave his head bald.
Born
 July 11, 1972, Oceanside, New York, United States
Alive or Dead
Alive and well
Best Known for
Adam that changes into 'Adina' in 2002 comedy film 'Sorority Boys' about a group of college guys that dress up as women. Role as 'Lex Luthor' in Superman Television series.
Height & Weight
5'11" / 181 cm's – 165 lbs / 75 kg's
Nationality
 American
Net Worth
 $2 Million USD
Married or Single
Single / dating
Gay or Straight
Straight
Interesting Facts and Trivia
Michael loves Ice Hockey of which he plays in charity events from time to time. He also plays Wiffle ball when he has get together's with his old high school buddies. 'Wiffle Ball' is like a tamed down version of Baseball that can be played in confined spaces.
He shaved his head bald for the role as 'Lex Luthor' in Superman, unlike Gene Hackman and Lyle Talbot that wore a bald cap and makeup for their previous roles as Luthor.
The Bald Michael Rosenbaum Plays Lex Luthor in Smallville