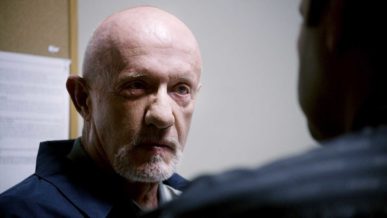 Jonathan Ray Banks is an American bald actor born in Washington D.C on 31st January, 1947.
Most famous for co-starring in movies Flying High / Airplane (1980), 48 HRS (1982), Beverly Hills Cop (1984), Gremlins (1984) and the hit television crime drama series Breaking Bad from 2009-12.
First started acting on stage and in small television roles in 1974.
At the time of adding Jonathan to Famous Bald People (30 May, 2019), he has appeared in 46 movies, 14 Television movies and 75 television series as an onscreen actor and occasional voice actor.
Jonathan Banks Hair Loss and Balding
Pictured here in the foreground talking into the microphone in the 1980 movie 'Airplane'.
You can see Jonathan still had hair but was thinning on top and his forehead hair was receding.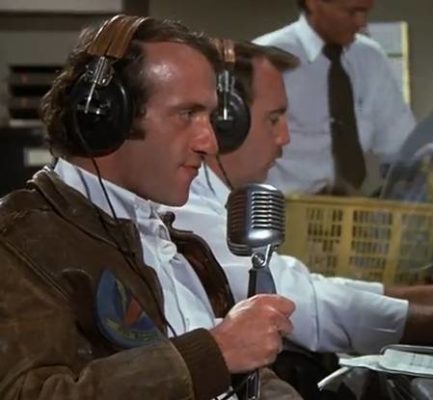 In 1984 more signs of Jonathan Banks receding hairline.
This is a screenshot from the hit movie 'Gremlins' released in 1984 showing Jonathan Banks playing role as 'Deputy Brent'.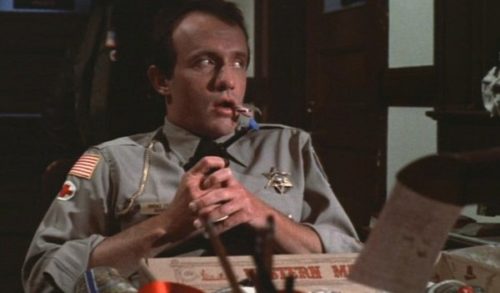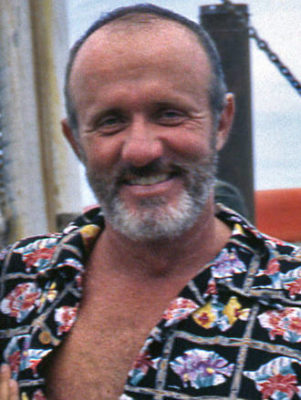 Fast forward around 10 years, this is a photo of Jonathan from the 1995 movie 'Flipper'.
Pictured balding and sporting a grey short beard and colorful fish shirt.
The main profile picture at the top of this bio page shows Jonathan Banks with a closely shaven head.
Genre
Bald Actor
Born
January 31, 1947, Washington D.C, United States.
Alive or Dead
Alive and well
Best Known For
Balding actor with goatee beard. Movie and Television roles Airplane, Beverly Hills Cop, 48 HRS, Wiseguy, Breaking Bad.
Height, Weight & Eye Colour
5′7″ / 173 cm's – 171 lbs / 78 kg's – Eyes – Blue
Nationality
American
Net Worth
$4 Million USD
Married or Single
Married Marnie Fausch in 1968 and divorced two years later in 1970. They had one daughter together.
Married Gennera Banks in 1990. They have two children together (fraternal twins).
He has one step daughter.
Gay or Straight
Straight
Official Website
None found
Interesting Facts and Trivia
Jonathan quit smoking around 1990 not long after his youngest kids where born.
Hosted the last two seasons of 'The Man Show' alongside co-host Doug Stanhope.
Likes to let the camera do the talking by using 'silence' to illustrate his intent. Another famous bald actor 'Bruce Willis' likes to use this form of acting.
Often cast as a villain and bad guy.
Dropped out of University to join the stage show 'Hair' and soon after toured to the land down under 'Australia' as a stage manager.
Won 'Best Supporting Actor' award at the 2012 Saturn Awards function for 'Breaking Bad.'