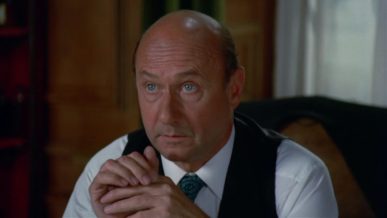 Donald Henry Pleasence was a bald actor born in Worksop, Nottinghamshire, England on October 5, 1919.
Famous for such movie roles as the villain in the 1967 James Bond movie 'You Only Live Twice' and the President of The United States in 'Escape from New York' 1981.
The movie role that i most remember Donald Pleasence for was his role as RAF Flight Lieutenant Colin Bly 'the forger' in the 1963 The Great Escape (1963). Alongside 'the scrounger' played by James Garner, Donald's character was slowly going blind and was initially denied his chance of escaping via the tunnel.
The Scrounger (James Garner) offered to help and was then allowed to escape via the tunnel with his American buddy. If you haven't seen the movie i won't spoil the ending for you but it is, in my opinion, one of the all time greatest movies ever made.
Donald Pleasence – His Hair and Baldness
There's many websites explaining all about his acting career and personal life and legacy but what we want to focus on is his hair (or lack of it) and when he started to go bald.
In an interview in 1987 he said Quote "I tossed away my toupee and entered the beady eyed acting business" end Quote, after playing the role as villain in numerous movies.
In the 50's we can notice from movie screenshots and old photos that his hair was receding.
Here is a screenshot from 1962 from the movie 'Dr Crippen' released in 1963 showing Donald with a receding hairline. He was aged 43 at the time.
HOLD IT RIGHT THERE! …Don't be fooled. This is a wig. A very good one since it was 1962 at the time.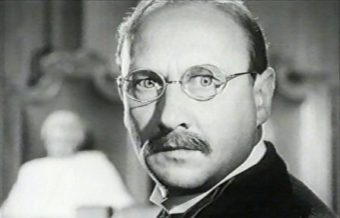 A better example showing his true baldness is from the movie '1984' starring Edmund O'Brien released in 1956.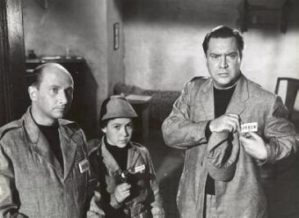 Donald Pleasence first appeared totally bald in the Bond movie 'You Only Live Twice' in 1967. The role as villain 'Ernst Stavro Blofeld'. (What i mean by totally bald is shaven head all over, front, back, top and sides with a razor Kojak style).
Later depicted as 'Dr Evil' in the parody film series 'Austin Powers' starring Mike Meyers whom also played the character villain bald guy role.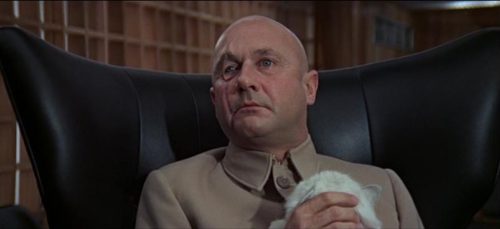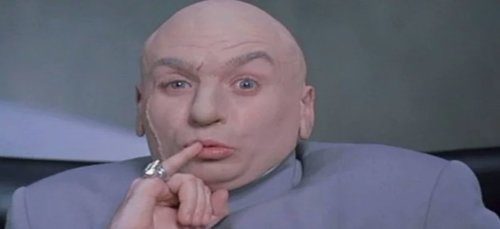 Genre
Bald Actor – Movies and television
Born
October 5, 1919 – Worksop, Nottinghamshire, England, United Kingdom
Alive or Dead
Died from congestive heart failure in France on February 2, 1995, 2 months after undergoing heart surgery in late 1994. He was 75 years old.
Best Known For
Roles in James Bond: You Only Live Twice – 1967, Halloween movie series – 1978, 81, 89, 95, The Great Escape – 1984, The Eagle Has Landed – 1976.
Height, Weight & Eye Colour
5′7″ / 171 cm's – 140 lbs / 63.5 kg's – Eyes – Blue
Nationality
British
Net Worth
10 Million USD
Married or Single
Married four times and has had 5 children of which were all girls.
Miriam Raymond (1941–1958) Had two children together 'Angela and Jean'.
Josephine Crombie (1959–1970) Two children together 'Lucy and Polly'.
Meira Shore (1970–1988) One child called 'Miranda' together.
Linda J. Kentwood (1988) No children together.
Gay or Straight
Straight
Official Website
None.
Interesting Facts and Trivia
Was awarded OBE 'Officer of the Most Excellent Order of the British Empire' for services related to acting profession by Queen Elizabeth II in 1994.
Has appeared in over 200 movie and television roles since his first appearance on the big screen with television film 'The Dybbuk' in 1952.
Spent the last years of World War II in a German POW camp after being captured during his time in the Royal Air Force (RAF).
Narrated a public information short film in 1973 where he appears as the grim reaper emphasising the dangers of drowning – read the full article in The Daily Mail UK.
---
REST IN PEACE Donald Pleasence – One of the greatest actors of all time.