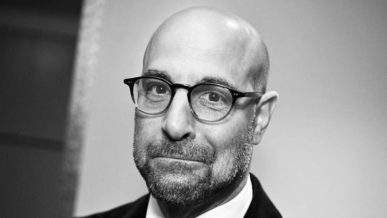 Stanley Tucci is an American actor, writer and producer best known for role as the Psycho guy out of the 2009 movie 'The Lovely Bones' starring 'Saoirse Ronan' and 'Mark Wahlberg'.
He is a stylish bald actor that always appears well dressed and can often be seen wearing suits with plain tie and even bow ties as well as eye glasses. He also prefers to grow designer beard stubble over just being completely shaven.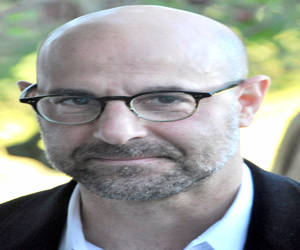 Genre
Bald American Actor
Born
November 11, 1960, Peekskill, New York, United States
Alive or Dead
Alive and well.
Stanley Tucci – Emmy Award Winning Actor
Best Known for
Roles in The lovely Bones, Devil Wears Prada, The Terminal, Road to Perdition, Transformers: Age of Extinction, Captain America: The First Avenger and The Hunger Games movie franchise playing role as 'Caesar Flickerman' the master of ceremonies that wears an outrageous hairstyle that looks like a wig.
Height – Weight
5′ 8″ / 173 cm's – 165 lbs / 75 kg's
Nationality
American
Net Worth
$19 Million USD
Married or Single
Was married to Kathryn Spath-Tucci from 1995 up until her death from breast cancer in 2009.
Married Felicity Blunt in 2012, they have one child together 'Matteo Oliver Tucci' born January 25, 2015. Felicity is the oldest sister of British actress 'Emily Blunt'.
Interesting Facts and Trivia
Stanley Tucci once appeared in a Levi Jeans commercial.
The TV commercial from circa 1985 features the young athletic Stanley Tucci on a city sidewalk wearing a pair of blue 501 Levi jeans and white sleeveless tank top shirt. Interestingly though, you can see his receding hairline, yep, he was starting to go bald already at age 25.
He appeared in Television movie 'Kojak: The Price of Justice' in 1987 starring another famous bald actor and highly rated amongst our website visitors 'Telly Savalas'.
His family heritage and surname originates from Italy.
He loves to cook with his mother Joan and has released a book on his favourite pass time called 'The Tucci Table: Cooking With Family and Friends'.
His family cooking books are available on Amazon.
Awards include an Emmy and a Golden Globe for his role in the TV movie 'Winchell' in 1998. Emmy for a guest turn on Monk in 2002 and a Golden Globe for role in HBO movie Conspiracy in 2001.