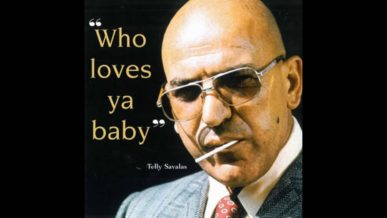 Dead American actor, real name is Aristotelis Savalas, best known for TV series 'Kojak'. Played the Character Theo 'Kojak' a NYPD – New York Police Department detective.
'Kojak' remained his nickname up until his death in 1994 age 70.
Telly is one of the best known and most recognized famous bald people of this century.
He first shaved his head for the role as 'Pontius Pilatethe' the fifth prefect of the Roman province of Judaea in the 1965 epic movie 'The Greatest Story Ever Told'.
He liked the shaved head look so much that he never bothered to grow his hair again and remained bald for almost 30 years until his death in 1994.
Catch phrase was "Who Loves Ya, Baby".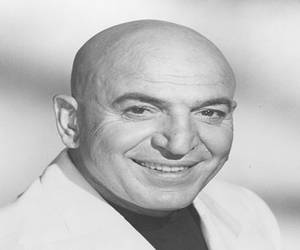 Genre
Bald Actor
Born
January 21, 1921, Garden City, New York, United States
Alive or Dead
Dead. Passed away on January 22, 1994 in Universal City, California.
Cause of death was bladder and prostate cancer.
Telly Savalas 'Kojak' – Bald Actor
Movie Roles – The Dirty Dozen (1967), Battle of the Bulge (1965), Birdman of Alcatraz (1962), On Her Majesty's Secret Service (1969).
Television Roles – Kojak (1973-78), The Man from U.N.C.L.E (1964-68),
Height – Weight
5′ 10″ / 180 cm's –  200 lbs / 91 kg's
Nationality
American with Greek-American family heritage
Net Worth
$5 Million USD
Official Website
Married or Single
Married three times – Katherine Nicolaides – married in 1948 and divorced in 1957, Marilyn Gardner – married in 1960 and divorced in 1974, Julie Hovland – married in 1984 and remained married until his death in 1994.
Interesting Facts and Trivia
Telly Savalas 'Kojak' – Bald Actor, did you know he could sing too with number one hits in the UK with a 'Spoken Word' version of American soft rock band 'Bread' song 'if' in 1975.
Pastimes and hobbies include gambling, swimming, golf and watching horse racing, 'Family Feud' and 'Jeopardy'.
Appeared shirtless on the cover of 'People' magazine in 1974.
Legendary actor Burt Lancaster gave him his first big break in show business.