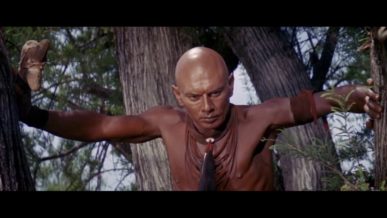 Famous bald actor Yul Brynner was a Russian born academy award winning actor, active from 1941 until 1985, the year of his death.
He became a naturalized United States citizen in 1944 aged 22 years old.
If we where to go out into the street and approach members of the public with this question…
' Who is the most famous bald person of all time '
We are sure that Yul Brynner famous bald actor would be one of the Top 10 people mentioned, particular by people from the 'baby boomer' era.
He first appeared with a closely shaved head (but not totally bald) in the 1951 Broadway musical stage show 'The King and i'.

It wasn't until the King and i was adapted into a motion picture film in 1956 that Yul Brynner shaved totally bald with a cut throat razor for his role as King Mongkut of Siam.
He won the academy award for 'Best Actor' in 1956 over other nominated actors James Dean – Jet Pink in Diamond, Kirk Douglas – Vincent van Gogh in Lust for Life, Rock Hudson – Jordan "Bick" Benedict Jr in Giant and Laurence Olivier – King Richard III of England in Richard III.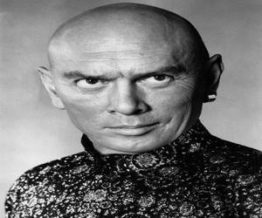 Genre
Bald Actor
Born
July 11, 1920, Vladivostok, Maritime Province, Far Eastern Republic
(known today as Far Eastern Federal District, Primorsky Krai, Russian Federation)
Alive or Dead
Dead – Died in October 10 1985 at age 65 in New York City, New York United States. Cause was lung cancer.
Best Known For
Stage musical and motion picture actor in 'The King and i'.
Roles in motion pictures The Ten Commandments (1956), The Magnificent Seven (1960) Westworld (1973).
Height, Weight & Eye Colour
5′11″ / 178 cm's – 163 lbs / 74 kg's – Eyes – Brown
Nationality
Russian – American
Net Worth
$10 Million USD at time of death (1985)
Married or Single
Married four times and had five children, 2 of which where adopted.
His married his first wife Virginia Gilmore in 1944. One child together. They divorced in 1960.
Yul's Second wife was Doris Kleiner – married in 1960 and divorced in 1967. One child together.
Third wife Jacqueline Thion de la Chaume – married in 1971 and divorced in 1981. They adopted two Vietnamese children together.
He married Kathy Lee in 1983 and they remained happily married until his death in 1985.
Yul also fathered a child out of marriage with 20 year old Frankie Tilden. They had one daughter together.
Gay or Straight
Straight
Official Website
Unofficial website – yulbrynnerphotographer.com
Interesting Facts and Trivia
His final movie role was in 1976 in the movie 'Death Rage'.
Played golf with Frank Sinatra.
Trained as a trapeze artist in a french  circus troupe.
Although famous for 'The King and i' his debut on Broadway was in 1941, appearing in William Shakespeare's Twelfth Night.
Made 4,625 performances in The King and I stage musical.
Spoke Russian, French and English languages.
Not just an actor, Yul was an active photographer, author of two books as well as a director.
Was good friends with Jean-Pierre Aumont and Marlon Brando.
Began smoking cigarettes at age 12.
Appeared in an anti smoking video produced by the American Cancer Society. He wanted the video to be shown after he died.
We want to finish up by showing you the video of Yul Brynner and his important message to people that insist on smoke cigarettes.
He is quoted as saying –
"I really wanted to make a commercial when i discovered that i was that sick and my time was so limited. Was to make that commercial that says, simply…
"Now that i am gone i tell you, Don't Smoke…Whatever you do just don't smoke"
Yul Brynner Famous Bald Actor Important Public Message
Rest in piece Yul Brynner.
One of the most famous actors and bald actors of all time.