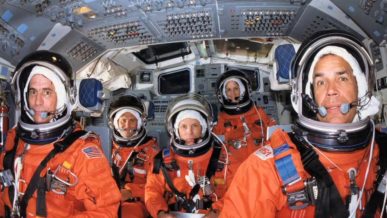 Franklin Story Musgrave M.D. is a former American astronaut that has completed six space missions. He is also one of the most educated people to have traveled into space.
A mathematician, aviation technician, instrument technician, military pilot, Air Force doctor of aerospace medicine and physiology. A National Heart Institute post-doctoral, bio physics instructor, you get the idea, he is indeed well educated.
His career at NASA began in 1967 working on the Sky Lab program. His first flight into space was on April 4, 1983 and his last voyage was 7th December 1996 and stemmed six missions – STS-6, STS-51-F, ST-S33, STS-44, ST-61, STS-80.
Operational duties included shuttle deployments, satellite launches and service and repair of the Hubble Space Telescope.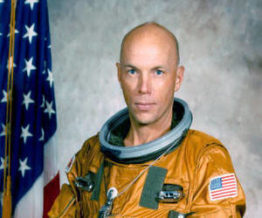 Genre
Bald Astronaut and Doctor
Born
August 19, 1935, Boston, Massachusetts, United States
Alive or Dead
Alive and well. In his 80's now and still working.
Story Musgrave Best Known for
America's 3rd best known spaceman – after Neil Armstrong and Buzz Aldrin
Height – Weight
Unknown at this time – can you help?
Nationality
American
Net Worth
$10 Million USD
Official Website
Married or Single
Story Musgrave has been married twice – he would like this part of his personal life to remain private and we respect his decision.
Interesting Facts and Trivia
His total time spent in space from all missions is 53 days and 9 hours and 55 minutes precisely.
Story Musgrave – Bald American Astronaut
Medals awarded during his career;
NASA Distinguished Service Medal.
Flying Physicians Association Airman of the Year Award (1974 & 1983).
Meritorious Unit Commendation.
NASA Distinguished Service Medal.
NASA Exceptional Service Medal with one star.
NASA Space Flight Medal with five stars.
National Defense Service Medal.
United States Air Force Post-doctoral Fellowship (1965–1966).
National Heart Institute Post-doctoral Fellowship (1966–1967).
Reese Air Force Base Commander's Trophy (1969).
American College of Surgeons I.S. Ravdin Lecture (1973).
In a Time Magazine interview from 2011, he was asked to answer 10 questions, one of the questions was…
What's the strangest thing you ever did in zero gravity?
His answer was quote:
I'm the only one I know that sleeps floating. It's delicious. You don't know where you are, and after a while, because your limbs aren't touching anything, you lose sense that you even have them.