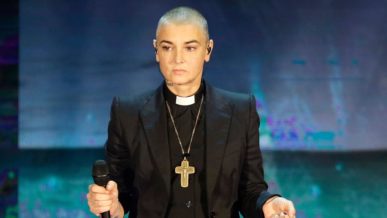 Sinead O'Connor is an Irish born musician, vocalist, guitarist and song writer.
The solo artist has drawn controversy as an anti Catholic protester most publicised in 1992 during a performance as guest musician on American sketch comedy television show SNL – 'Saturday Night Live' (see 'Facts and Trivia' below).
She was ordained as a catholic priest herself in the late 1990's.
Head Shaving
Sinead shaved her head bald when she was just 17 years old, initially to look unattractive for her own personal safety as a young woman growing up in Ireland during 'The Troubles' conflict era (1968-98) between Catholics and protestants.
She has embraced the short hair 'crew cut' style ever since.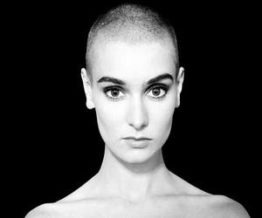 Genre
Bald singer –  songwriter -musician
Born
December 8, 1966, Glenageary, County Dublin, Republic of Ireland
Alive or Dead
Alive and well.
Best Known for
Pop ballad 'Nothing Compares 2 U' – The Hit song released 8th January, 1990 was originally written by the late musician 'Prince' and was the second single from her second studio composed album 'I do not want what i haven't got' released March 20, 1990.
Height – Weight
5′ 4″ / 162.5 cm's – 115 lbs / 52 kg's
Nationality
Irish
Net Worth
$6 Million USD
Married or Single
Married four times – John Reynold's in 1987-2000, Nick Sommerlad  2001-2004, Steve Cooney 2010-2011 and Barry Herridge in 2011 and has since had an 'on and off' again relationship with Barry.
Gay or Straight
Came out as a lesbian in 2000. She admits to having relationships with both men and women.
I'm three-quarters heterosexual, a quarter gay."
– Quote taken from an interview with Entertainment Weekly in 2005.
Interesting Facts and Trivia
Sinead tore up a photograph of Pope John Paul II on Saturday Night Live in 1992 saying quote – "Fight the real enemy" as she ripped the picture of the Pope at the time into small pieces and tossing it at the camera.
American pop star 'Madonna' appeared on 'SNL' some weeks later and tore up a photo of 'Joey Buttafuoco' saying the same line, quote – "Fight the real enemy'.
The New York Times wrote about the feud saying that Madonna was 'Professionally Jealous' after Sinead received so much free publicity from just tearing up a single photo.
Madonna at the time was promoting her 1992 album 'Erotica' and her book 'Sex' when Sinead's now famous performance stole the limelight.
Check out the famous scene where Sinead O'Connor tears up the photo of the Pope on SNL