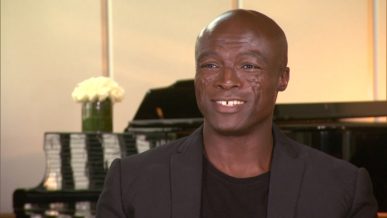 Seal Henry Olusegun Olumide Adeola Samuel is a British Grammy Award winning singer and songwriter born February 19, 1963, to parents originating from Nigeria (mother) and Brazil (father).
Seal in the early 1990's had long thick dreadlocks.
Nowadays he likes to shave his head smooth and bald. The 'Huffington Post' did a story on famous men that look better without hair. Take a look at the difference – Seal with and without hair.
Seal really pulls of the shaven head look. His black head seems to magically glisten when he is singing on stage, an absolute awesome look if i may so say myself.
He has a scar on his face due to an autoimmune disease "Discoid lupus erythematosus" a condition that can effect skin above the neck and in some cases cause hair loss.
For more check out Seal's Wikipedia Page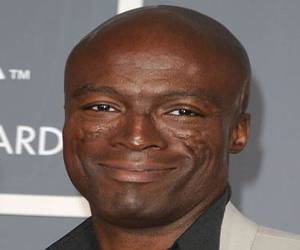 Genre
Bald singer / songwriter
Born
February 19, 1963, Paddington, London, England, United Kingdom
Alive or Dead
Alive and well.
Best Known for
Worldwide chart topping soul music hits – 'Kiss from a Rose' released in 1994-95, 'Crazy' in 1990 and 'Future Love Paradise' from self titled album 'Seal' in 1991.
Height – Weight
6′ 3″ / 192cm's – 187lbs / 85kg's
Nationality
British
Net Worth
$20 Million USD – without adding wife Heidi Klum's fortune – they have a combined net worth of around 80 million USD.
Married or Single
Divorced German super-model Heidi Klum in 2015 after a 10 year long marriage. they have 3 children together.
Gay or Straight
Straight
Interesting Facts and Trivia
Seal has sold more than 30 million record albums.
Before becoming famous in the early 1990's, Seal played gigs with various bands in Japan, Thailand and India where he found spirituality.
Was in a horrific motorcycle accident in his youth that quote "Changed his life".
Seal in 2012, was reported as saying his then wife Heidi Klum cheated on him with her personal bodyguard.