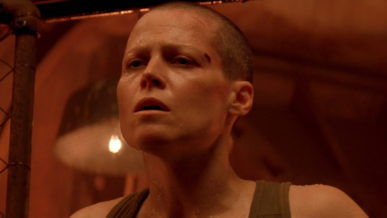 Born Susan Alexandra Weaver and best known as 'Sigourney Weaver' is an American Actress that shaved her head Bald for Hollywood blockbuster movie 'Alien 3' released in 1992.
Alien 3, with a budget of $50-55 million made an impressive $159.8 million dollars at the box office.
The tall actress kept the short hairstyle for the duration of filming of the third movie in the series which took a full 6 months shooting time at Pinewood Studios in Iver Heath, Buckinghamshire, England, United Kingdom.
Her daughter Charlotte was just 2 years old at the time and hated the look of her mothers hair so much that Sigourney chose to wear a wig offset so as not to upset her.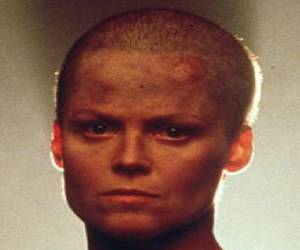 Genre
Actress Sigourney Weaver – Shaved Head for a Movie Role
Born
October 8, 1949, Manhattan, New York, New York, United States
Alive or Dead
Alive and well.
Sigourney Weaver – Shaved Head for a Movie Role
Best Known for
Role as 'Ellen Ripley' in the Alien movie franchise – Alien (1979, directed by Ridley Scott), Aliens (1986, Director James Cameron), Alien 3 (1992, Director David Finch), Alien: Resurrection (1997, Directed by Jean-Pierre Jeunet).
Role as Dian Fossey in 1988 motion picture 'Gorillas in the Mist: The Story of Dian Fossey'.
Height – Weight
5′ 11″ / 180 cm's – 145 lbs / 66 kg's
Nationality
American
Net Worth
$40 Million USD
Married or Single
Married Jim Simpson in 1984. They have a daughter called 'Charlotte Simpson' born on April 13, 1990.
Interesting Facts and Trivia
When the filming of Alien 3 had ended, Sigourney started to grow her hair back to a more normal length but was then asked to go back and re-shoot a few scenes. This time, rather than having her locks shaved off again, asked if she could wear a bald cap instead. A special bald cap was manufactured for the re-shoot scenes that where shot in Universal Studios, Hollywood California.
Picked on by her class mates at school for being so tall.