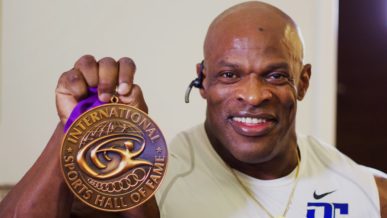 Ronnie Dean Coleman is an African American former bodybuilder that Won the 'Mr Olympia' bodybuilding title 8 years in a row – 1998, 1999, 2000, 2001, 2002, 2003, 2004 and for the last time in 2005.
Ronnie was active in the sport from 1990 – 2009.
Black bodybuilders like to shave their heads bald and smooth and Ron Coleman is no exception.
Bald black guys seem to be able to pull off the bald look better than other guys. What do you think?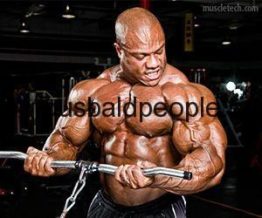 Genre
Black Bald Bodybuilder / Sportsman
Born
May 13, 1964 Monroe, Louisiana, United States
Alive or Dead
Alive and well
Best Known for
Bodybuilding. Being one of the greatest bodybuilders of all time.
Height & Weight
5′ 11″ / 180 cm's – His weight fluctuated from 300-315 lbs / 140-143 kg's off competition and during competition where he bulked up weight for contests.
Nationality
 American
Net Worth
 $10 Million USD
Married or Single
Married to Susan Williamson, April 11, 2016 till present. Not his first marriage, Ronnie was briefly married to personal trainer 'Rouaida Christine Achkar' in 2007. They divorced shortly after.
Gay or Straight
Straight
Interesting Facts and Trivia
Ron Coleman was inducted into the 'International Sports Hall of Fame' in 2016 by Arnold Schwarzenegger. Ronnie Coleman won 'Mr Olympia' 8 times. Arnold Schwarzenegger only won it 7 times (can't wait for Arnie to lose all his hair and go bald).
Bald Bodybuilder Ronnie Coleman Inducted into International Sports Hall of Fame
Ronnie Coleman's nickname was 'Big Arm'.
In 2008 an undisclosed woman tried to claim child support money from Coleman after he previously donated his sperm to a Californian sperm bank. The woman gave birth to three premature babies. One of the babies survived only a few months.