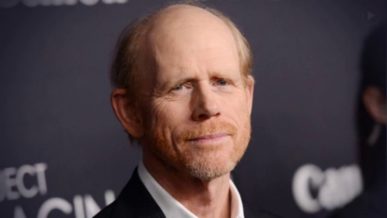 Ronald William Howard is a Hollywood film director and former actor best known for his role as 'Opie Taylor' on the Andy Griffith Show which aired on CBS from 8th October 1960 – April 1st 1968.
His is also known for his acting role as 'Richie Cunningham' in 70's – 80's Television sitcom 'Happy Days'.
His ginger hair was noticeably thinning on top at the 1992 Cannes film festival.
The bald director was at Cannes that year for the 1992 movie he directed and produced 'Far and Away' starring Tom Cruise and Nicole Kidman. The film was shown at the closing of the festival.
Photos of Ron Howard at the time show him with a 'comb over' type hair style.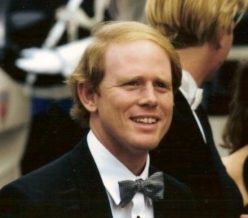 Ron Howard although nowadays completely bald on top still likes to keep growing his hair on the sides and the back of his head. In my honest opinion, the style really suits him.
He can sometimes be seen sporting some kind of manly facial hair. Lately a short, neatly kept beard that is ginger and grey in colour.
Genre
Bald director, producer and actor
Born
March 1, 1954 Duncan, Oklahoma, United States
Alive or Dead
Alive and well.
Best Known for
'Opie' from The Andy Griffith Show and for directing Hollywood blockbusters like Apollo 13, Cocoon, Splash, The Da Vinci Code, Angels and Demons, Cinderella Man, A Beautiful Mind.
Height & Weight
5′ 9″ / 175 cm's – 170 lbs / 77 kg's
Nationality
American
Net Worth
$140 Million USD
Married or Single
Married Cheryl Alley June 7, 1975. They have four children together. Daughters 'Bryce Dallas' 1981, 'Jocelyn Carlyle' and 'Paige' in 1985, they are twins and their son 'Reed Cross' was born in 1987.
Gay or Straight
Straight
Interesting Facts and Trivia
Former Happy Days cast member 'Henry Winkler' remains good friends with Ron. Henry is the godfather of Ron's first daughter Bryce Dallas Howard.
Ron Howard's mother 'Jean Speegle Howard' a former actor herself was suggested, by his father 'Rance Howard', to play role as Jim Lovells (Tom Hanks) mother in the 1995 blockbuster motion picture 'Apollo 13' which Ron directed. Ron agreed. The scene only took two takes for his mother Jean to complete, a directors dream.
I came by, she was nervous, and had a little housecoat and was prepared to do it. And we went through it a couple times and she made me cry just because I was proud of her as a son, but also I saw that she could do it and this was an opportunity."