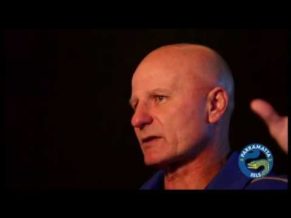 Peter Maxwell John Sterling is a former Australian rugby league player and occasional sports commentator on channel nine with guest appearances on 'The Footy Show' with Paul Vautin.
Peter Sterling's nickname is 'Sterlo'.
On the channel 9 Footy Show, he was often referred to as 'Snorky'.
He was once featured in a sketch on the show with co-host Paul 'Fatty' Vautin about an 'Advanced Hair Studio' commercial where bald guys that where almost totally bald suddenly get a full head of hair. "Advanced Hair"… "Yeh, Yeh!".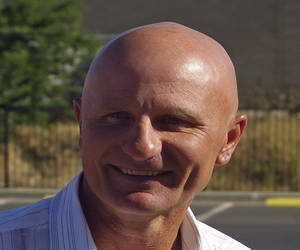 Genre
Bald Sports Star – Rugby League Football
Born
June 16, 1960 Toowoomba, Queensland, Australia
Alive or Dead
Alive and well
Best Known for
One of the best Rugby League halfback's ever seen. Played most of his career with Western Sydney team known as the 'Parramatta Eels'. Team colours are blue and yellow. Peter wore the number '7' jersey during 227 games with Parramatta.
Height & Weight
5′ 9″ / 175 cm's – 165 lbs / 75 kg's
Nationality
 Australian
Net Worth
 $2 Million USD
Married or Single
Married to Selina Sterling. They have a daughter together called Hannah.
Gay or Straight
Straight
Interesting Facts and Trivia
Peter was inducted into the Australian Rugby League Hall of Fame in 2006.
Joined the Parramatta Eeels in 1978 playing position as fullback, eventually switching to halfback where he spent most of his career. His final game with the Eels footy club was in 1992.
Sterlo played 13 'State of Origin' games for NSW from 1981 to 1988. He also played 18 International games with the 'Kangaroos' team, representing Australia in the ARL – Australian Rugby League.
Peter was part of the 1982 Kangaroo squad known as 'The Invincibles'. The team scored the name after being unbeaten on it's tour of Great Britain and France. The first team ever to be undefeated in both Great Britain and France. Sterling played in all five games.
He played for Hull Football Club, commonly knows as Hull f.C in 1983, 84, and 85. The club is based in Riding, Yorkshire, England. Close by to where another Famous Baldie from our website was born 'Patrick Stewart'.
Bald Sportsman Peter Sterling