Persis Khambatta was an Indian actress and former 'Revlon' model.
She died of a suspected heart attack on the 18th of August 1998.
Most famous for playing the bald 'Lieutenant llia', Deltan navigator in the 1979 movie 'Star Trek: The Motion Picture'.
She became noticed after posing 'naturally' in a soap commercial. This led her to become a model and beauty queen contestant, winning 'Femina Miss India' 1965.
Early in her career she was often referred to as "The prettiest Indian girl to be seen in the United States in years".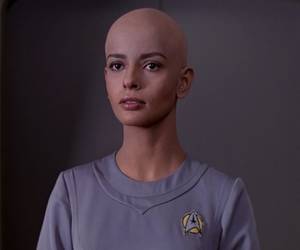 Genre
Bald Actress and model
Born
 October 2, 1948, Bombay, Bombay State, India
Alive or Dead
Died in 1998, age 49.
Best Known for
Bald female role in Star Trek movie in 1979. Modelling for a popular soap brand. 'Femina Miss India' in 1965.
Height & Weight
5′ 8″ / 173 cm's – 119 lbs / 54 kg's
Nationality
 Indian
Net Worth
 $500,000 USD
Married or Single
Married to Cliff Taylor from 1981–1981. Married to Naren Parekh from 1986 up until her death in 1998.
Gay or Straight
Straight
Interesting Facts and Trivia
Two years after her famous bald role in Star Trek, Persis played role as Shakka Holland / Shakka Kapoorwas in the 1981 movie 'KnightHawks' starring veteran American actor 'Sylvester Stallone'. She had long dark hair in the movie.
Persis was the first Indian citizen to present an 'Academy Award'. On stage at the 52nd Academy Awards with William Shatner, together they presented an Oscar for Documentary "Best Boy" (feature) to Ira Wohl, and the Oscar for Documentary (Short Subject) for "Paul Robeson: Tribute to an Artist" to Saul J. Turell.
Original Footage of Persis Khambatta Getting Shaved Bald for Star Trek Role
Watch Persis hold back tears as she gets all of her beautiful long hair shaved totally bald.