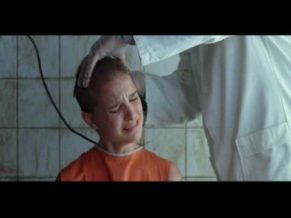 Natalie Portman is an Israeli born American actress that once shaved her head bald for the 2006 movie 'V for Vendetta'.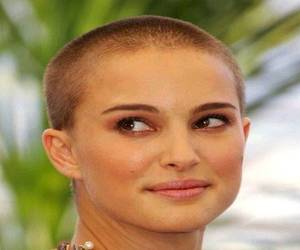 Genre
Bald Actress
Born
 June 8, 1981 Jerusalem, Israel
Alive or Dead
Alive and well
Best Known for
Role as Evey Hammond in V for Vendetta. The film made $132.5 million dollars at the box office.
Height & Weight
5′ 3″ / 160 cm's – 128 lbs / 58 kg's
Nationality
 American
Net Worth
 $54 Million USD
Married or Single
Married Benjamin Millepied in 2002. They have one child together.
Gay or Straight
Straight
Interesting Facts and Trivia
Natalie Portman was born on June 9th, 1981 in Jerusalem, Israel, as the only child of a doctor father (from Israel) and an artist mother (from Cincinnati, Ohio), who also acts as Natalie's agent.
She left Israel for Washington DC, when she was still very young.
After a few more moves, her family finally settled in New York, where she still lives to this day.
At the age of 11 she was discovered by an agent in a pizza parlor.
She wanted to be a model but later decided to pursue a career in acting. She made a powerful film debut in the 1994 action movie 'Leon: The Professional'.
Natalie received worldwide recognition as 'Queen Amidala' in the highly anticipated 'Star Wars: Episode I – The Phantom Menace' in 1999.
>> Turned down a role in The Horse Whisperer (1998) to act in "The Diary of Anne Frank" on Broadway.
>> Revlon agent asked her to become a child model when she was 10 but she turned down the offer to focus on acting.
>> A band named after her: Natalie Portman's Shaved Head.
>> Has been a vegetarian since the age of 8.
>> Was named one of the 50 Most Beautiful People by People Magazine in 2002.
>> Voted the 15th Sexiest Female Movie Star in the Australian Empire Magazine September 2002.
>> Shaved her head for V for Vendetta (2005).
Bald in 'V for Vendetta'
Portman looked forward to shaving her head totally bald for the role of Evey Hammond during the torture scenes, stating that she has wanted to do it for a long time. For the shaving scene, the crew and the shaving team had only one take to do it.
"Remember, remember the 5th of November, the gun powder treason and plot. "I know of no reason why the gun powder treason should ever be forgot" . Sound familiar? Yes this is a tag line from the movie "V for Vendetta" a tale of Evey Hammond was portrayed by Natalie Portman.
The tale unfolds in a futuristic Great Britain which is under a dictatorial regime. A mysterious freedom fighter known only as "V" uses terrorist tactics to fight against the totalitarian society. In one of his pursuits he rescued a mild-mannered woman named Evey (Portman).
As Evey discloses the truth about V's mysterious background, she also uncovers the truth about herself – and emerges as his unlikely ally in the transpiration of his plot to bring freedom and justice back to a society laden with cruelty and corruption.
Natalie Portman really conveys herself remarkably as a bald character. And I dare say that Evey Hammond is the most challenging character Portman ever depicted, not to mention shaving her lovely hair…and YES, she  looks extremely stunning and gorgeous, BALD!.
Natalie Portman Shaved Bald – V for Vendetta Shave Scene