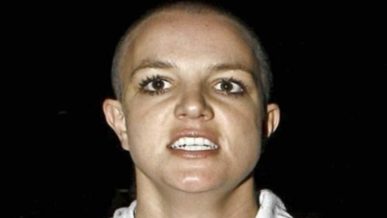 Britney Spears bald? Actually not bald but still worth a mention. The celebrity pop star shaved her head bald in 2007.
For what reason? Apparently to mask her drug use when a hair sample was to be examined over a child custody battle with Kevin Federline as reported in the UK Mirror. Read the Full Story.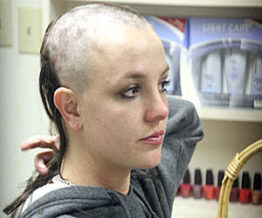 Genre
Bald Musician
Born
December 2, 1981 – McComb, Mississippi, United States
Alive or Dead
Alive and well
Best Known for
Hit songs 'Oops!…i did it again' 2000 and 'Baby One More Time' 1999
Height & Weight
5′ 4″ / 162 cm's – 125 pounds / 57 kg's
Nationality
American
Net Worth
63 Million USD
Married or Single
Single (annulled marriage once and divorced once)
Gay or Straight
Straight
Interesting Facts
In 2000 Britney was on listed in the Guinness Book of Records for 'Best selling album by a teenage solo artist'. She is still mentioned to this day in the Guinness Book of Records for 'The Most Expensive Advertising Campaign on Television' – she was the star in Pepsi Cola commercial which was first seen during Superbowl XXXVI at the Louisiana Superdome, USA on 3 February 2002.
Britney Spears Bald Video Footage from 2007
Britney Spears gets a Tattoo at Esther Tognozzi's salon in Tarzana, California shortly after shaving her head completely bald in 2007.
Paparazzi and onlookers go crazy with cameras trying to get a shot of Britney as she leaves the building with her body guard.