Frederick Reginald Ironside – We know him as Michael Ironside a Canadian actor, voice artist and occasional director, producer and screen writer.
One of the hardest working actors in Hollywood starring in over 165 feature films from as far back as 1977.
He is still acting to this day. His latest movie due for release in 2017 is called 'The Space Between'.
Michael Ironside began balding in his early twenties and was almost totally bald on top of his head by age 27.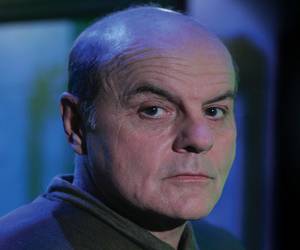 Genre
Bald Canadian Actor
Born
 February 12, 1950, Toronto, Ontario, Canada
Alive or Dead
Alive and doing well – Michael is a cancer survivor. He has beaten thyroid cancer and prostate cancer.
Best Known for
Movie roles in Total Recall, Top Gun, Starship Troopers. Television roles in 'V: The Final Battle', 'V – The Series', 'ER', 'Cold Squad'. For full list see Michael Ironside Career Roles.
Height & Weight
5′ 10″ / 178 cm's – 176 lbs / 80 kg's
Nationality
 American
Net Worth
 $8 Million USD
Married or Single
Married Karen Marls Dinwiddie in 1986 they have a daughter called Findlay born in 1998. Michael also has another daughter from a previous marriage, Adrienne Lynn Ironside.
Gay or Straight
Straight
Interesting Facts and Trivia
He has a noticeable scar on his left upper cheek just below the temple area apparently from walking into a glass door.
Having wrecked his knees playing football in his youth, he has had both of his knees replaced with titanium implants.
The majority of time, Michael is cast as villains or in bad guy / tough guy roles.
Canadian born, Michael moved to Los Angeles, California in 1982 to pursue an acting career, he still lives in L.A today.
He used to be a good arm wrestler. Speaking of wrestling he is a big fan of Professional Wrestling.
Bald Actor Michael Ironside Montreal Comic-con Interview