Robert Kelly Slater is an American surfing World champion (11 times) and holds both the record of being the youngest winner of the World Surf League (WSL) title at age 20 and the oldest contestant to win the World Surf League (WSL) title championship at the age of 39. The WSL changed it's name and was known as ASP – Association of Surfing Professionals from 1983 – 2014.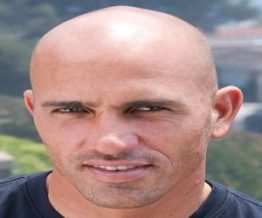 Genre
Bald Professional Surfer
Born
 February 11, 1972, Cocoa Beach, Florida, United States
Alive or Dead
Alive and Well
Best Known for
Most successful surfing champion in the history of surfing surpassing the winning record of 5 World Titles by Australian World champion 'Mark Richards' known in the surfing World as 'M R".
Height & Weight
5′ 9″ / 175 cm's – 160 lbs / 72 kg's
Nationality
 American
Net Worth
 $20 Million USD
Married or Single
Has a long time model Girlfriend, fellow surfer 'Kalani Miller'. He has a daughter, Taylor Slater with his ex-girlfriend Tamara.
Gay or Straight
Straight
Interesting Facts
He was in nine episodes of hit television series 'Baywatch' starring Pamela Anderson and David Hasselhoff. Kelly played the role of wanna be surfing champion 'Jimmy Slade' who lived in a Chevy van down by the beach.
He had a full head of hair back then.
Nowadays Kelly shaves his head because he suffers from male pattern baldness.
Did you Know Kelly Slater retired from the sport of surfing in 1999 after winning 6 titles only to do a comeback in 2003. The comeback wasn't a bad move, he ended up winning another 5 World Titles in 2005, 2006, 2008, 2010 and 2011.
Kelly is still competing in the WSL in 2016 and beyond. Do you think he can win another title? Let us know in the comments below.
Bald Surfing Champion Kelly Slater