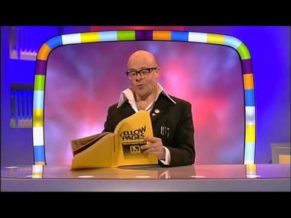 Harry Hill is a British stand up comedian, Television host, author, voice over actor / narrator and multi award winner.
Harry's real name is Matthew Keith Halland. He changed his name when his comedy career 'took off' because he wanted to have a name that rolled off the tongue and that sounded more 'Showbiz'.
The funny bald guy likes to wear thick half rimmed glasses usually black in colour with large collared shirts. He once said "Without my collars and glasses, i disappear".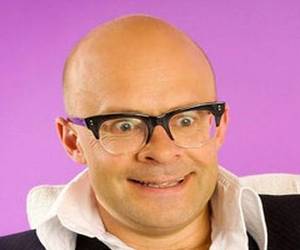 Genre
Bald British Comedian and TV Presenter / Narrator
Born
 October 1, 1964 Woking, Surrey, England, United Kingdom
Alive or Dead
Alive and Well
Best Known for
The narrator from home video TV show produced by Granada Television 'You've Been Framed'. The show first aired in 1990 and Harry Hill joined as narrator in 2004 till present day.
Height & Weight
5′ 9″ / 175 cm's – 154 lbs / 70 kg's
Nationality
 British
Net Worth
 $19 Million USD
Married or Single
Married Magda Archer in 1996, they have three daughters together
Gay or Straight
Straight
Interesting Facts
His voice is instantly recognised by the majority of the British population.
In 2006 Harry Hill fell victim to an online fraud scam when con men set up a fake bank account under Harry's name. The con men managed to siphon more than £280,000 (pounds sterling). The thieves have not yet been caught.
Harry Hill on Being Bald and the Fart Cushion
About hair loss and being bald, Harry Hill once said that "I knew i was going bald when it was taking longer to wash my face".