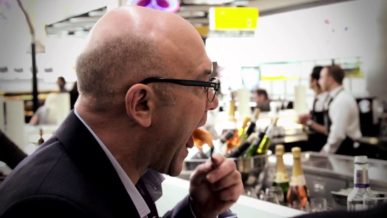 Gregg Wallace is a British writer and TV presenter, most famous for the fat, bald guy that wears glasses on 'MasterChef' (UK). Hold it right there…Gregg has recently lost weight, a lot of weight in fact, from a heavy 92 kilograms most of his adult life, down to a healthier weight for height of 75 kilograms.
Gregg says he has become addicted to weight loss, exercising one hour everyday at the gym sometimes two hours.
I love it and the fitter and thinner I get, the more I want to do,' 'I'm addicted to the Weight Watchers app on the iPhone.
As reported in a Daily Mail UK interview in 2013.
Gregg Wallace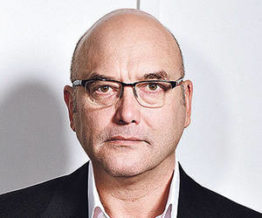 Genre
Bald British Television Host and Presenter
Born
 October 17, 1964 Elephant and Castle, London, England, United Kingdom
Alive or Dead
Alive and doing well with his weight loss goals.
Best Known for
 Co-host / Judge from UK Television series 'MasterChef' since 2005 till present
Height & Weight
 5′ 9″ / 175 cm's – 165 lbs / 75 kg's
Nationality
 British
Net Worth
 $1 Million USD unconfirmed – His green Grocer business that reported to have an annual turnover of £7.5 Million pounds sterling went in to receivership in 2013 after many restaurants closed due to the UK recession and a record year of rainfall in the Uk did not help his vegetable supply business.
Married or Single
Married Anne-Marie Sterpini 2016
Gay or Straight
Straight
Interesting Facts
Known as the 'Finisher' among close friends after the days of dining with friends he would finish his own meal then eat all of their left overs too.
He is a long time supporter of Millwall F.C since being born close by to the Peckham based South-East London Football club.
Gregg Wallace The Bald TV Host's Funny Food Descriptions
Gregg is also known for his funny food descriptions. After judging the shows contestants dishes he comes out with hilarious quotes that sometimes can be mistaken for describing anything but food.