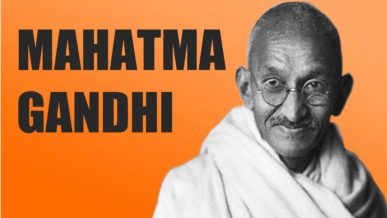 Mahatma Gandhi was an Indian Independence movement leader, lawyer and human rights activist.
His full birth name is 'Mohandas Karamchand Gandhi'. Born on October 2, 1869 and assassinated in 1948.
The people of India called him 'Bapu' which translates to 'Papa' or 'Father' in Gujarati, a regional language of India.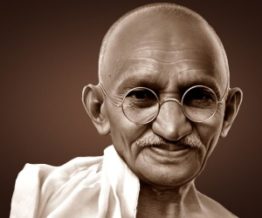 Genre
Bald Indian Independence and Civil rights activist, non violent civil disobedience lawyer and promoter.
Born
 October 2, 1869 Porbander Indian now known as 'Gujarat' – a State in Western India commonly referred to as 'The Jewel of India'.
Alive or Dead
Dead – died January 30, 1948
Best Known for
 Indian Nationalist Leader / fighter for Independence from the United Kingdom.
Height & Weight
 5′ 5″ / 165 cm's – 110 lbs / 50 kg's
Nationality
 Indian
Net Worth
 $1 Million USD (unconfirmed)
Married or Single
Married Kasturbai Makhanji Kapadia in 1883
Gay or Straight
Straight
Interesting Facts
He wore only round spectacles and in the latter part of his life they where bi-focals. The Gandhi museum has a pair of his old glasses with 'S. Benson and Co., Hornby Road, Bombay' embossed on the case.
Between 1893 and 1914 Gandhi was an activist for Indians in South Africa where he gained valuable experience in dealing with social injustices and how to deal with the media including public speaking all of which helped him build his political strength and confidence on his return to India in 1915.