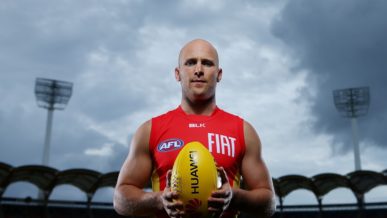 Gary Ablett Jnr is an Australian Football League (AFL) player and current captain of the Queensland Footy Club The 'Gold Coast Suns'. He is the eldest son of Aussie Rules legend and member of the 'Australian Hall of Fame', Gary Ablett Snr.
Genre
Bald Australian AFL Player
Born
May 14, 1984 Moriac, Victoria, Australia
Alive or Dead
Alive and Well
Best Known for
Highly Rated Midfielder, Dual Brownlow Medalist
Height & Weight
6′ 0″ / 182 cm's – 187 pounds / 85 kg's
Nationality
Australian
Net Worth
10 Million AUD (Australian Dollars)
Married or Single
Engaged to Jordan Papalia July 2015
Gay or Straight
Straight
Interesting Facts
The National Australia Bank (NAB) produced a television commercial in partnership with 'Auskick' featuring children as AFL lookalikes. 'Charlie' the young 'mini-me' lookalike of Gary Ablett Jnr was asked by his teacher to do a 'show and tell' up the front of the class about his experiences being in the commercial. Little did he Know Gary Ablett Jnr would make a surprise visit to the school and walk in on Charlie during his class presentation. Little Charlies 'jaw dropped' as his look alike and idol walked in as reported in the Daily Mail.
NAB AusKick MinI Legends Featuring AFL Lookalikes including Gary Ablett Jnr Bald
See if you can spot 'Charlie' – the Gary Ablett Jnr lookalike.