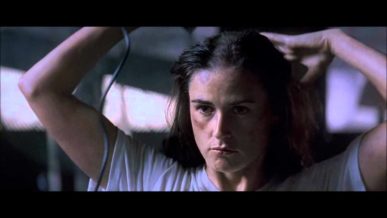 Demi Moore is an American actress that shaved her own head bald in the head shaving scene for the movie 'G.I Jane', so she definitely deserves a mention on our website. This was a very brave thing to do in 1997 considering that only a few years earlier she had the classic 'girl next door' look in the blockbuster movie 'Ghost', the highest grossing film of 1990.
You can watch the famous head shaving scene at the bottom of this page.
The movie by English film director producer Ridley Scott 'G.I Jane', 1997 went on to make an estimated $50 million USD at the box office, $11 million USD on it's opening weekend.
She was also married to another famous bald actor, Bruce Willis in 1987,  they divorced in 2000.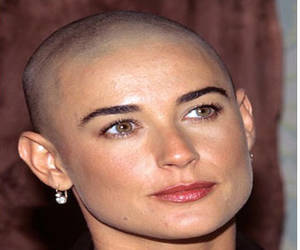 Genre
Bald Actress
Born
 Novemebr 11, 1962, Roswell, New Mexico, United States
Alive or Dead
Alive and well
Best Known for
 Movies: St Elmo's Fire 1985, Ghost 1990, Indecent Proposal 1993, Striptease 1996.
Also famous for being married to mega stars, Bruce Willis (1987-2000) and Ashton Kutcher (2005-13)
Height & Weight
 5′ 5″ / 165cm's – 126 pounds / 57 kg's
Nationality
American
Net Worth
$150 Million USD
Married or Single
Single
Gay or Straight
Reported in Gawker to be bi-sexual after splitting with then husband 'Ashton Kutcher' because of Demi's bi sexual 'Needs'.
Interesting Facts
She and her second husband Bruce Willis hired not one but three cameramen to film the birth of their first child Rumer Willis born August 16, 1998.
Bruce was not her first husband in fact Demi was also married to singer Freddy Moore of which Demi began using the surname 'Moore' as her stage name. They were divorced on August 7, 1995.
She was also engaged to actor Emilio Estevez with plans to marry in 1986 but later called off the wedding.
Her third marriage was to Ashton Kutcher on September 24, 2005. They divorced 8 years later in 2013.
Demi Moore Famous Bald Head Shaving Movie Scene in GI Jane