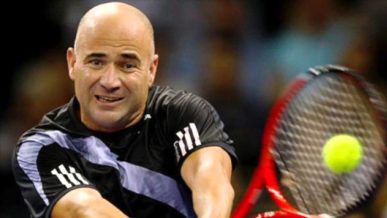 Andre Kirk Agassi is a Sports star, tennis champion and all round good guy.
He competed in his first professional tournament in 1986 aged 16 and retired from pro tennis on September 3, 2006 after his loss in the third round of the 2006 US open. Andre was ranked number 1 in the World in 1995, 1999, 2000 and 2003.
He regularly competes in celebrity matches as well as guest appearances as a commentator and court reporter.
During the late 80's and early 1990's, apart from sporting many hats to cover his balding head he hid his receding hairline with a long wig before 'coming out' in 2005 and revealing his receding hairline with newly shaved head.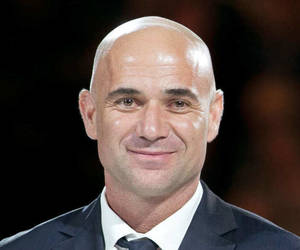 Genre
Bald Sportsman / Athlete
Born
April 29, 1970 – United States
Alive or Dead
Alive and well
Best Known for
Tennis
Height & Weight
6′ 0″ / 182cm's – 176 pounds / 80 kg's
Nationality
American
Net Worth
175 Million USD
Married or Single
Married to Steffi Graf
Gay or Straight
Straight
Interesting Facts
Wore a mohawk mullet styled wig /weave during his early career
Other interesting facts is that Andre dated Barbara Streisand in 1990.
Marriage Status
In 1997 Andre married child star actress Brooke Shields. After confessing to his wife about wearing a wig and his meth addiction they divorced in 1999, they have no children together.
Andre Agassi married Steffi Graf at their Las Vegas home in 2001, revealing Steffi was pregnant and due the same year. They have two children together, Jaden Gil in 2001 and daughter Jaz Elle in 2003.
Business Failures and Ventures
In 1996 along with 5 other professional athletes opened a restaurant called 'Official All Star Cafe'. Th restaurant closed 5 years later in 2001.
He has also had stakes in the gaming industry in Las Vegas as well as stakes in Nevada Bank and a furniture line with his wife Steffi.
Andre has partnered and promoted products from Jocobs Creek wine to Longines watches, Canon cameras and Nintendo Wii.
I think it is fair to say that Andre likes to invest in entertainment and financial industries.
Wigs, Mullets, Weaves and Bobby Pins
Agassi first shaved his head seen in photos in 1995 but it wasn't until his wife Brooke Shields convinced him to "just shave what you have left off" in 1996.
Andre finally says good bye to the hair while promoting his book 'Open – an Autobiography' on the Late Show with David Letterman in 2009.