Famous short haired model and former Victoria's Secret Fashion model that was discovered by talent scout 'Lyndsey McIntyre' (former Kenyan model) from Surazuri Modeling Agency in 2003 after she won 'Miss Nairobi' in a Kenyan fashion model competition.
Ajuma has had contracts with Ford Models and DNA Models. She has also worked with several supermodels including Naomi Campbell at the New York Fashion week in New York City.
Speaking of supermodels she was fourth runner up in the 'Ford Supermodel of the World' search in 2003.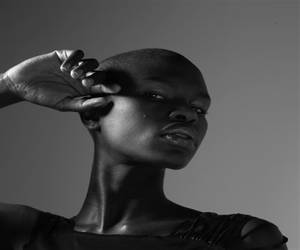 Genre
Fashion Model with Short Hairstyle
Born
August 16 1984, Lodwar, Kenya, Africa
Alive or Dead
Alive and well
Best Known for
Victoria Secret Model, Miss Nairobi 2003, African Fashion Model of the Year 2013.
Height & Weight
179 cm's tall / 5″ 10. 5 – 53 kilograms
Nationality
African
Net Worth
1 Million USD (estimated – no data)
Married or Single
Single
Gay or Straight
Straight
Interesting Facts & Trivia
Although Ajuma is a tall, slender lady, we mention this because…Did you know? – Beauty in her home Country of Kenya is defined by big bottomed ladies.
Promoting African Skin Colour
Ajuma is an advocate for black African beauty and has spoken out about skin whitening /  bleaching quote; "I have never attempted to change my skin. I am natural. People in Europe and America love my dark skin. But here in Kenya, in my home country, some consider it not attractive".
Likes to keep her hair short and natural. She has been known to shave her head completely bald and wear wigs while on stage. Well known for having one of the darkest skins ever seen on the runway.
Tom Boy Turned Supermodel
Ajuma was a self confessed tom boy while growing up in Lodwar a rural area known for basket weaving in North Western Kenya.
It was family, friends and surrounding neighbours mesmerised by her beauty that encouraged her to try modelling by always telling her "you could model".
Business Owner
Ajuma now owns her own modelling agency in Kenya called 'City Models Africa'.
She has plans to open office locations in Tanzania, Uganda and West Africa.